LifeFone's Family Guard®
A mobile app for the whole family.
Family Protection with LifeFone's Family Guard®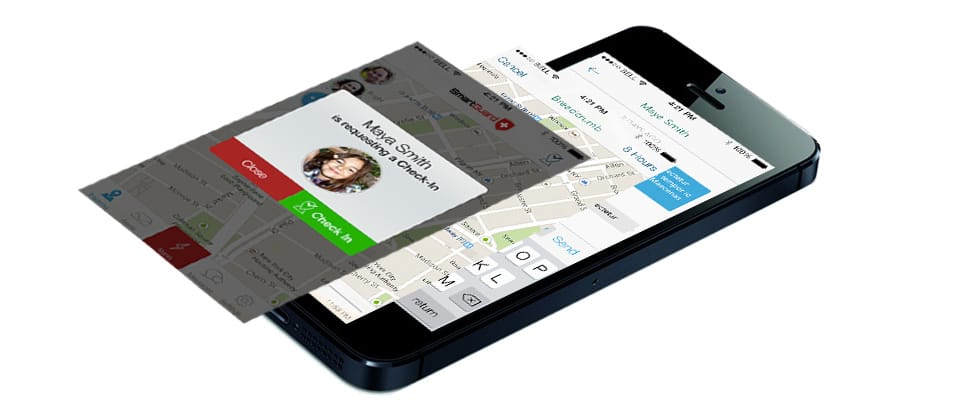 LifeFone's Family Guard® gives you all the benefits of LifeFone's Mobile Alert™ - a personal panic button that you can assign to your cell phone or a family member plus the ability to monitor real-time locations for up to three family members. It provides added peace of mind by giving you arrival alerts for your loved ones.
The LifeFone's Family Guard® App is also intuitive and easy to use. When the person with the panic button needs help, just press the panic button on the app, and it connects the caller to the LifeFone call center, where LifeFone's professional call center operators in the U.S. are standing by 24/7, ready to assist you. You don't have to carry a separate device; it works as an app on any Android or iPhone. Using your cell phone coordinates, we can quickly identify your location (often, more accurately than 911). Coverage is nationwide with two-way audio.
Customize your app to meet your family's needs. For adults and children old enough to understand when and how to use a panic button, you may choose to upgrade your account to give the people you are tracking the added protection of their own personal panic button on their smartphone app. And if you have more than three family members to track, you can add them, too.
The LifeFone Family Guard® App provides four modes of assistance while preserving your privacy. LifeFone only sends tracking information to our U.S. based call center when you activate the app to get help.
Location Tracking – You can monitor the locations of family members right from your phone or from the Family Guard® portal on any web browser. Have more than three people to monitor? No problem. Just call us at 1.800.882.2280 to upgrade your account.

Panic – When you need assistance ASAP. A trained operator in our call center will verify your location and dispatch assistance. The LifeFone system can identify the appropriate emergency services based upon your location, eliminating delays in notifying emergency responders. In addition to notifying emergency responders, our call center can also call the people on your personal responder list or notify via text message based on your emergency response profile instructions. NOTE: We will assist you whether or not you are able to communicate directly with us, and we will have an audio connection to you once you activate the app. Want to add panic buttons to any of the people you are monitoring? No problem. Just call us at 1.800.882.2280 to upgrade your account.

Concern – This mode provides you with a virtual escort service. An operator will stay with you on your Smartphone, communicating with you until you are safe and feel secure, standing ready to summon help if needed.

Medical - This mode provides assistance when the user is the most vulnerable. Use it if you have any medical emergency. Users that have preexisting conditions, such as heart conditions, diabetes, high or low blood pressure, allergies such as peanut, bee sting, shellfish or any other condition that may impede the user's ability to communicate, will not need to speak to get help.

---

Coming soon with
LifeFone's Family Guard®

User-Defined Geofencing

At-Home & On-the-Go
For Arrival and
Departure Alerts

"Lead Foot" Alert

Perfect for Monitoring Teen
Driving Habits

Notifications

Email and/or text message
alerts and notifications
Add LifeFone's Family Guard®
Emergency Assistance for Dependents
---
Easy to Install: Just download the app from Google Play or the Apple App Store,
then call us at 1.800.882.2280 to activate your account.

LifeFone Consumer Friendly Policies
No Activation Fees or Equipment Fees
30-day Money Back Guarantee
Lifetime Subscriber Price & Equipment Guarantee
Spouses Protected For FREE With Basic Service
Just $5-10 More Per Month to Add Automatic Fall Detection
Cancel At Any Time & Pay Only For The Time You've Used
LifeFone Recognition
LifeFone is recognized by doctors, hospitals and
caregivers along with leading national health
education and consumer organizations.
Learn More
For less than a dollar a day, you can have
24-hour protection Call 1-800-331-9198 to order today!