Why Choose LifeFone
Medical Alert Services that allow independence,
security and fast response at the press of a button.
LifeFone has been an innovator in providing security and peace of mind to thousands of people throughout the United States since 1976. Utilizing the latest information technology and our continued commitment to "personal" response, LifeFone is in the forefront of the healthcare communications industry.
Value
You pay less than $1 a day for 24/7 monitoring.
No installation or activation fees; no up-front deposits.
Subscriber Price Guarantee: Once you subscribe, the price of service will never increase.
No time commitment. You can cancel at any time and pay only for the time you've used (full refund for any unused, pre-paid amount).
Choose the billing plan that works best for you.
Get a free month of service for every new subscriber you refer to us.
Protect a second person in your home for no additional fee. (Additional Fee for Fall Detection Pendant)
30-day money back guarantee.
Quality
Reliable, UL (Underwriting Laboratories) certified equipment.
Easy to install.
Equipment range up to 1,300 ft. in any direction.
32-hour back-up battery for base unit.
Fully Waterproof Pendant and Wristband.
Customer can answer the telephone with their LifeFone help button.
Limited Lifetime Warranty.
LifeFone receives low battery signal and will notify you immediately to replace or resolve at no cost to you.
Unlimited Emergency Contact Notifications – we will contact as many people as you request. We follow your customized emergency notification instructions, which you can update at any time online, by mail, email or phone.
Reputation
LifeFone has been in business since 1976.
Rated A+ by the Better Business Bureau.
All service provided directly by LifeFone US-based employees.
Recommended by leading health care providers throughout the US for over 35 years.
LifeFone service is recognized by the National Council on the Aging, the National Stroke Association, WebMD, and the National Institute of Senior Citizens.
US-based customer care agents assist you 24/7 in LifeFone's owned and operated call center.
Our services give individuals instant access to caring, compassionate help 24 hours a day, every day of the year. Subscribers can directly contact our specially trained Emergency Care Specialists with the simple push of a button. And LifeFone helps to maintain their Subscribers' independence and overall quality of life by ensuring early intervention in emergency situations.
As a leading provider of Medical Alert Systems, LifeFone is recommended by healthcare providers throughout North America. These providers include: hospitals, area agencies on aging, home health care providers, social workers and geriatric care managers. LifeFone is an integral part of their overall care program.

LifeFone Consumer Friendly Policies
No Activation Fees or Equipment Fees
30-day Money Back Guarantee
Lifetime Subscriber Price & Equipment Guarantee
Spouses Protected For FREE With Basic Service
Just $5-10 More Per Month to Add Automatic Fall Detection
Cancel At Any Time & Pay Only For The Time You've Used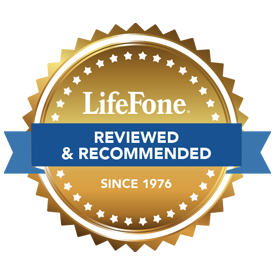 LifeFone Recognition
LifeFone is recognized by doctors, hospitals and
caregivers along with leading national health
education and consumer organizations.
Learn More
For less than a dollar a day, you can have
24-hour protection Call 1-800-331-9198 to order today!