Enjoying a breezy spring day or the warm summer temperatures doesn't have to be a distant memory for seniors and caregivers. Finding a few interesting summer ideas and activities for seniors, suitable for their abilities, takes some creativity and planning, but it is well worth switching up the routine and getting out of the house.
As a caregiver, Caregivers Connections knows that part of what motivates you is seeing your loved one happy and thriving. Here is a list of fun ways to get outside, and why it's so good for them, and for you!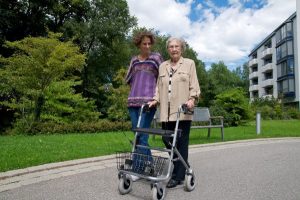 Be a tourist. If you live in a city, take an open-air bus or trolley tour to see the local sights. Another option could be a boat tour, depending on what type of equipment would be needed to take with them. This is a great way to get you both outside, but doesn't necessarily include much walking. An afternoon or evening drive around town can also be a great way to check out the happenings in and around the community. Festivals, flowering trees, and other community events keep your loved one engaged in what's happening in their world.
Attend community events. From Memorial Day concerts to Fourth of July parades and fireworks, there are plenty of community events during spring and summer that offer opportunities for you to get out and be part of the crowd. Many communities offer outdoor musical performances, art shows, car shows, flea markets and more. Peruse the events section of the local newspaper to find happenings that fit your loved one's interests and abilities.
Go fly a kite. Head to a park or beach and get a kite soaring. Let them take control, which they can do while sitting down. If children are around, they can get involved by trying to keep the kite in the air.
Encouraging them to participate in summertime activities for seniors will help them feel more engaged. These ideas are just springboards to the many outdoor activities available. Perhaps they enjoyed fishing as a child, so go fishing, or a baseball game may be just the ticket. Don't be afraid to ask what they want to do or visit. Honestly, those are questions they may not hear very often, and find it refreshing to participate in activities that they had in their younger days. You may get a bit of resistance, but, assure them that you'll enjoy doing the activities right alongside of them.