Safety Tips For Senior Travelers
More people than ever are traveling! Many senior travelers are proclaiming, "Age matters only if you're a cheese." Travel is your fountain of youth. You don't have to stop traveling just because you're getting older.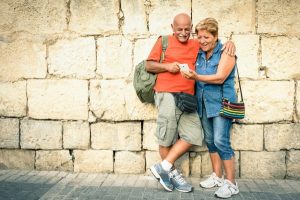 If anything, it's when you are older that travel means more; a lifetime of knowledge allows you to fully appreciate the new experiences you're having. And, if not for travel, what did you work so hard for all those years?
At LifeFone we want you to go out and adventure, yet we want to make sure you are prepared and aware of things you can do to have a safe and enjoyable time. As an active senior traveler, be sure to speak to us about how your medical alert system will work for you when you are on the go.
Physical Limitations: Of course, the reality is, as we get older we are subject to some physical limitations, and when we travel, those limitations don't just vanish. Choosing 'off-season' times of the year for your destination will often cut down on the crowds, making a leisurely stroll on the beach, through shops, the vineyard a much easier journey.
Packing: Lighten your load, take fewer clothing items and do laundry more often. Fit it all in a roll-aboard suitcase and don't try to haul a big bag. Figure out ways to smoothly carry your luggage so you're not wrestling with several bulky items. For example, if you bring a second bag, make it a small one that stacks neatly (or even attaches) on top of your wheeled bag.
Flying: If you have connecting flights, having your entire luggage checked will keep your steps lighter through the airports. If you are a slow walker, or have mobility issues, don't hesitate to request wheelchair assistance. Consider upgrading to 'economy plus' seats as they are often roomier. Splurge and go first class! Staying hydrated during long flights and walking the aisle is important to minimize the slight chance of getting a blood clot.
Don't advertise your absence: Don't assume that your hotel room is a safe zone for your personal items while you are out and about. The truth is that people with bad intentions can come and go quite easily in most hotels. Instead, call the front desk on the way out and let them know you'll be leaving and that they can send someone up to clean the room.
Senior Discounts: Just showing your gray hair or passport can snag you a discount at many sights, and even some events such as concerts. Always ask about discounts, even if you don't see posted information about one — you may be surprised.
Enjoy your journey, as senior travelers, you have lots of places to go and explore, and by doing so you'll remain young at heart, and possibly in better health.