How A Lock Box is Helpful For Seniors
We are all familiar with a lockbox when looking for or selling a home. Real estate agents hang them on homes that are for sale so buyers can come into a home while keeping the house secure. Unlike the flower pot or door mat, lockboxes keep your keys safe with a combination lock.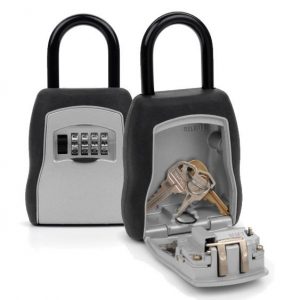 A secure way to keep a spare set of keys accessible outside of the home is with the use of a lockbox. They easily hang on your doorknob, with your keys safely inside. You simply place the keys in the door (of the box) and shut it. The door automatically locks, and one needs the combination to open it again. Lockboxes are designed to keep away thieves and burglars, and have been shown to help seniors feel safer in their own homes.
With the ease of having a lockbox, it makes sense for anyone, whether a senior citizen, or someone who lives alone, to get one. If you call for help, emergency personnel will use any means necessary to enter your home. This includes breaking windows and breaking down doors. This adds up to costly maintenance repairs for anyone. Having to force their way inside causes time delays in situations where every second counts. That's why LifeFone offers a lockbox as a companion to our medical alert systems.
Should an emergency occur while you are unable to open the door or get out of residence, Emergency Services Personnel can access your property without having to break in. This ensures that your property is secure, and your safety is within reach of emergency responders at all times by providing rapid access to your property by authorized personnel.
When you subscribe to our medical alert system, you might want to consider a lockbox to securely store the key to your home. You choose a four-digit code that we will program on your lockbox. We provide this code to emergency personnel when you are in need. We want you to feel safe and secure in your home by providing as many tools as possible to allow you to do that. A lockbox is another added level of protection and time-saving during an emergency.