Five Lifestyle Trends In New Homes
Home design is constantly evolving as our society changes. In today's plugged-in world, homeowners are looking for a place to unwind and spend time with family and friends. Many are also looking for a sense of community. And an increasingly aging population is also influencing how homes are designed. Here's five lifestyle trends that are being seen in new homes. Many can also be considered if choosing to remodel.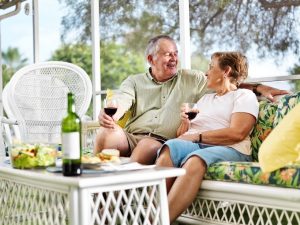 Getting outside. Creating an outdoor space that is warm and inviting is gaining popularity. Outdoor living areas, often with fireplaces, firepits, sofas and televisions are becoming increasingly popular and essential when it comes to designing a new home. As friends and family move in and out of your home, the line between indoors and outdoors becomes blurred through the use of stacking or accordion-style glass doors that can turn a wall into an open space.
Healthy Living. Homebuyers are becoming increasingly aware of indoor environmental hazards. The trend is toward safer paints, high-efficiency heating and air-conditioning units, and the use of natural materials like cork and wood in the building process.
Energy Efficiency. Newer government mandates along with homeowner demands are spurring the increase of a new home's energy efficiency. Solar power, better windows and insulation will continue to become features. Energy-efficient, flexible LED lighting is also changing the way homes are illuminated. Water conservation is also becoming more important. Gray-water technologies are emerging that allow for some recycled water to be used for irrigation purposes.
Aging in Place. The aging population of America is also influencing home design. Older homeowners are looking for smaller, single-story homes that are easy to navigate. As more and more of the population turns 65, universal design is becoming increasingly important. Designers are learning that accessibility doesn't come at the cost of style. For example, flush-floor showers with built-in seating and partial doors can be both functional and elegant.
Flexible space. Look for more areas in a home that don't have a dedicated purpose. The extra room could become a suite or a quiet office for a family member working from home. According to a 2016 Gallup poll, 43% of the nation's workforce spent part of the time working remotely. Flex rooms can easily be transformed from one purpose to another without any costly renovations.
New homes will continue to flex and change with lifestyle trends. Homes will become increasingly 'wired' with new technology. While technology will continually be changing, you can always rely on a medical alert device from LifeFone to be there in case of any emergency in and around your new, or renovated home.