In-Home Doctor Visits Are Making A Comeback
In-home Doctor visits are making a comeback. Today, doctors are bringing back the old practice of visiting patients in their homes. With in-home doctor visits, you may no longer have to go through what could be the stress and difficulty of getting to the doctor's office.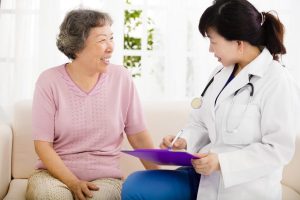 The fact is, most people do still go to the office. However, the historic practice of seeing patients in homes may be making a comeback, says Dr. Justin Davis​, a primary and urgent care doctor in San Francisco.
With the return of in home doctor visits, the doctor can spend more time without interruptions from other office personnel or a crowded waiting room.
Beyond that, there are many benefits to in home doctor visits. With the possibility of the ailment being contagious, or when a fever is present, having to get dressed and out of your house can be exhausting in and of itself. Having your physician come to your home can keep you from possibly spreading a virus, and can also help to keep you from over-exerting yourself.
If you are elderly, or have limited mobility, you may find it more difficult to get to the office. The inability to drive can also hinder getting to the office. Knowing that your doctor is available to come to your home, you are more likely get medical help
For some people, the physician may be able to do a more thorough examination in the patient's home than in the office. An example would be if you are wheelchair bound. Having the option to be seen in your home could help you feel more comfortable being in your own surroundings. The doctor then has a more private setting in which to examine you.
When being seen in your home, your doctor may be able to identify problems and make suggestions for improvement. Perhaps making walk ways more accessible, installing hand grips in bathrooms and other safety suggestions that would never be considered at the office.
In case of an emergency, with a push of the button on your medical alert device from LifeFone, emergency personnel is immediately dispatched to your location.
To find out if your health care provider is offering in-home doctor visits is as simple as asking. You never know, it may be just what they needed to give it thought.