Three Solutions To Ensure Safety At Home For Your Loved Ones
With the aging population living a more independent lifestyle, often as their loved one, you become concerned about their safety. Mom and dad feel comfortable in their home, and don't want any outside interference, even from their family. However, as their child, you would like them to take precautions to ensure their safety at home.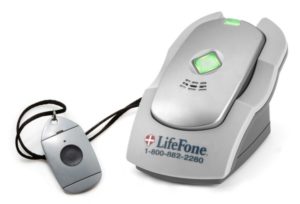 Perhaps you know you it's time to have a conversation with them to discuss your concerns. A good approach is to let them know that you need this. It could be as simple as saying, 'mom, dad, I know you are in good health, but, for my peace of mind, would you consider one of these options?'
At LifeFone, we believe it's important that your parents subscribe to and wear their medical alert system at all times, giving you and them peace of mind that they have emergency help at a touch of a button. There are also other ways to make sure they are well.
Volunteer visiting programs:
One option you may want to investigate is a volunteer visiting program. They are typically run by churches, community groups, or social service agencies. These programs provide volunteers who will visit an older adult in their home, usually for an hour or two once or twice a week. These programs help provide additional companionship as well as gives you the reassurance that someone is checking in on a regular basis.
A pre-programmed phone:
Pre-programming their phone can easily eliminate the difficulty of finding a phone number, either yours, their physician or pharmacy. Include frequently called numbers and place an easy-to-read chart of the short cuts by their phone.
Technology solutions:
Technology also offers a number of ways to help keep your parents safe at home. For example, at LifeFone we offer different options of medical alert systems which provide wearable 'help buttons' that allows them to call for help anytime it may be needed. We have several different options available for mom or dad. Along with our basic services, we also offer:
Daily check-in call where we make outbound calls to the subscriber
Medication reminders to remind the subscriber what and when to take their prescribed medications of the day.
Location services can give the location of the subscriber's LifeFone mobile device as needed.
Activity assurance where they can check in daily using their base model.
We know that your concern is keeping your folks safe in their own home. At LifeFone, we are here to help with different solutions with our medical alert systems.