Labor Day has been celebrated the first Monday in September for over a century. For many, it marks the end of summer with parades and picnics but it was originally designed as a day to celebrate the hard work and contributions of the American worker.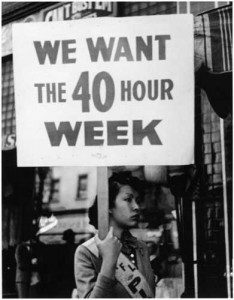 In 1869 Uriah Stephens formed the Knights of Labor, a secret society in Philadelphia with the goal of organizing workers around the country. Their primary demand was for an eight-hour day; they also called for legislation to end child and convict labor, as well as a graduated income tax. Over the coming years many organizations went on strike to demand these and other workers rights.
Today, there are some elderly members of our society who experienced this time in history first-hand. We'd like to share a list of events in history that shape our country today and give us cause to celebrate Labor Day for its true meaning.
Jun 12, 1912 – Massachusetts adopted the first minimum wage law.
Sep 3, 1916 – The Adamson Act established an 8-hour workday for employees of interstate railroads, with overtime for working longer hours.
Mar 3, 1931 – The Davis-Bacon Act required that federal contractors pay their workers the wages and benefits prevailing in the local market and kept employers from importing cheaper workers from outside the region.
Mar 5, 1933 – Frances Perkins became the first woman in U.S. History to hold a cabinet post when she became Franklin Roosevelt's Secretary of Labor. She was in favor of a comprehensive, pro-labor agenda including minimum wage laws, unemployment insurance, old-age pensions and abolition of child labor.
Jun 25, 1938 – The Fair Labor Standards Act set a 40-hour workweek with time-and-a-half for additional hours. It also established a national minimum wage and put severe restrictions on child labor.
Jun 10, 1963 – The Equal Pay Act prohibited discrimination in wages on the basis of sex. The result: women's earnings climbed from 62% of men's in 1970 to 80% in 2004.
In more recent history, many of us will remember some of these events:
Mar 18, 1970 – More than 200,000 Post Office workers walked off the job in the first national strike of public employees.
Jun 12, 1981 – Major League Baseball players went on strike. The strike wiped out nearly 40% of the season that year but was settled just in time to save the World Series from cancellation.
Aug 3, 1981 – The Professional Air Traffic Controllers Organization (PATCO) went on strike seeking better working conditions, better pay and a 32-hour workweek. On August 5, following their refusal to return to work, Reagan fired the 11,345 striking air traffic controllers who had ignored the order and banned them from federal service for life.
While you may not agree with the results of all of these historical events, it's fascinating to consider what our forefathers did to create the working environment we experience in the 20th century.
If you have an aging loved one, spend a few hours reminiscing about their life experiences. You might be surprised at the stories they will tell.