Home Modifications To Prevent Falls In The Home
Mom and dad have told you that they really want to stay in their home as long as possible. However, you are concerned about their safety. At LifeFone, we have ideas for home modifications to prevent falls in the home.
As people age, the risk of falling increases. According the Center for Disease Control, one out of every five falls causes serious injury, including broken bones or head injuries. The resulting injuries often mean that mom and dad may no longer be able to live independently.
The key to preventing falls for your loved one is making the home a safe place by reducing the likelihood of falls. With some home modifications, some small, medium, or even large ones, their home can become a safer place to live.
Every room has risks, but the bathroom and kitchen typically are riskier than the bedroom and living room areas. For example, the bathroom accounts for the most falls at home.
Here's a few small ways to modify the bathroom, kitchen and walkways.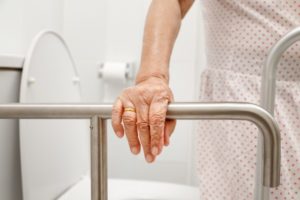 For the bathroom:
Add a non-slip rubber mat to the shower or tub.The traction of the mat or rubber self-stick strips will help keep you from slipping when stepping on the wet surfaces.
Consider a shower chair and a hand-held shower head.These can help you avoid reaching or straining during your shower.
Install grab bars by the toilet and tub.The hard surfaces of the bathroom can make falling even more dangerous. Properly installed grab bars around the toilet and tub provide needed support and balance. Remember, towel racks aren't grab bars, but grab bars can be towel racks. Grab bars should be installed by a professional to make sure they are at the correct levels and properly anchored to the walls.
Purchase a toilet surround. This simple tool provides excellent stability especially when the layout of the bathroom doesn't provide space for grab bars.
For the kitchen:
Replace scatter rugs with rubber backed rugs. Scatter rugs or area rugs are tripping hazards. If you prefer to have a mat on the floor near the sink or stove, make sure it is placed securely on the floor and doesn't have turned corners or edges that you could trip on. The best rugs have heavy-backed rubber bottoms so they stay in place.
Move your most commonly used items within reach. Put the kitchen items you use every day—like plates, glasses, or even seasonings—on the lowest shelves. This will help you avoid using stepstools and chairs—things you can easily lose your balance on—to reach items on higher shelves.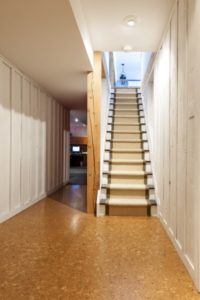 Often times, the walkways are overlooked. They are equally as important as the kitchen and bathroom when it comes to preventing falls in the home.
Make sure that there is adequate lighting. Good lighting is the key in all smaller areas, including the stairs coming into the home.
Add traction where there are steps. Non-slip strips are easy to install, and can help prevent slipping and falling going down or up the stairs.
In the garage or outside, add visibility. You can add visibility by painting the edge with reflective or brightly colored paint.
Keep them clutter-free. Too often steps and hallways gather odd items that need to be transferred to other parts of the house. Make sure that items like books, laundry and shoes aren't left where they can become a hazard.
These are a few easy steps and minor modifications that can be made to mom and dad's home to prevent falls. At LifeFone, we also suggest that you check out our medical alert system to give them, and you, more peace of mind when choosing to live at home.