Growing up, summer was a favorite time of year. After all, if you lived in a cold climate the weather just got better which is pretty much true no matter where you live. You were out of school for a few months and there was that family vacation. Oh the memories associated with Disneyland, the beach or the lake with those fishing poles and campfires and all those "other" family vacation traditions that just made life good.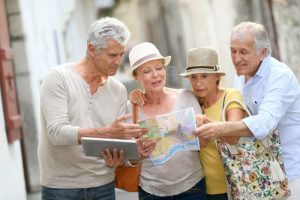 Roller coasters may not be in the mix but there are still many fun ways to enjoy some fun time traveling and relaxing. There are options.
State Fair. Every state has one of these and they are quite amazing overall. Fried food …. well everything deep fried. Avoid the food or enjoy the food … but there is great fun and affordable famous entertainment. And gadgets and booths galore.
Live close by. Most of us live within driving distance of a great location. Mount Rushmore, Niagara Falls, San Francisco, Palm Beach, the Great Lakes, the Hamptons …. take the trip. AARP offers discounts that make hotels affordable.
Cruise ships make most of us think expensive but they really are not if you are a bargain shopper. One of the joys of retirement is flexibility and there are last minute cruise options that are beyond belief. Once on board, everything is free … except the cocktails and shore excursions. Cruise ships want to fill those beds and there are discounts up to 80% for last minute deals. Were you a public employee? More discounts.
Travel Companies offer amazing bus tours that range from a day trip or longer. Amtrak offers cruises up the coast that make your heart sing. And it is all relaxing and fun.
Festivals are fun. Most of us live in neighborhoods that do some sort of festival. Hot Air balloons and food festivals … ethnic events that will challenge your taste buds and make you smile. Sometimes we think that our travel plans need to look far away when excellent options are just next door.
Travel Agents. For most of us, travel agents are scary and seem expensive but they are not. They work with our local senior centers and neighborhoods to create not only trips … but experiences that don't cost a lot of money. And you make new friends along the way.
The fact is that you CAN travel to great places for relatively small amounts of money. Go find some fun!
To increase your safety and provide peace of mind, you might want to add LifeFone's mobile apps to your smartphone as a way to stay connected to family, friends and emergency medical care should something happen while you're out playing!