Now that your children have grown and moved out, you may be thinking, it's time to travel. At Lifefone, we agree! After decades of cramming travel into long weekends and limited vacation time, it's time to set new goals to see new places. If you've retired, or shifted gears to a job with more flexibility, you have the time to explore and do more things. Here's some tips to get you started on the right foot.
Before you embark on your trip, there are some things you should make sure are taken care of. Preparation is always the key to success, whether at work, at home or while traveling.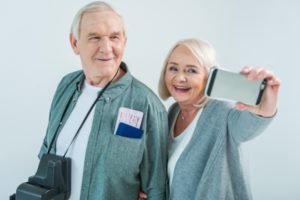 Things like:
Make sure the bills are paid. Either pre-pay or schedule your payments that are due while you are gone. It's easy to do and gives you one less thing to think about while you are out enjoying yourself.
Check the local weather conditions and pack accordingly.
Make sure you have any medication or supplements to last for your entire travel time. It also helps to give yourself a little wiggle room, so as to not have to scurry to the pharmacy the day you get home.
Leave phone numbers where you can be reached along with your itinerary at home with your loved ones.
Stop your mail and your newspaper.
Make a list:
Many 'baby boomers' – 38% – say they have created a travel list of places they want to go, and things they want to do within the next few years. As a matter of fact, according to one study, they have an average of eight places on their list. Your list doesn't have to include wild and exotic places. Many folks are slightly more inclined to travel domestically. The United State is full of some rather amazing places, and none of them require a passport or money exchanges.
When it comes to domestic travel, ask about discounts. Now's the time to take advantage of your age. There are discounts available beginning at age 55. Don't be afraid to ask. Airlines, restaurants, hotels, even our national park system offers discounts.
Travel as a couple:
It's always safer to travel in pairs. Whether this is with your spouse or your best friend, it's fun to be with someone you know.
When to travel:
Traveling off season can save you money as rates tend to go down on beach house rentals, hotels, etc. Traveling off peak doesn't mean you'll miss the warm summer sun, or the fresh mountain powder, it simply refers to the time when your destination location is less crowded.
Traveling near and far is a good for you. It's also good for your family as they know you are enjoying your retirement, or change of pace. To give them even more peace of mind, while you travel, you can sign up for LifeFone's Family Guard. The app for your smart phone is intuitive and easy to use, and can be customized to meet your needs.