Staying Cheerful During The Holidays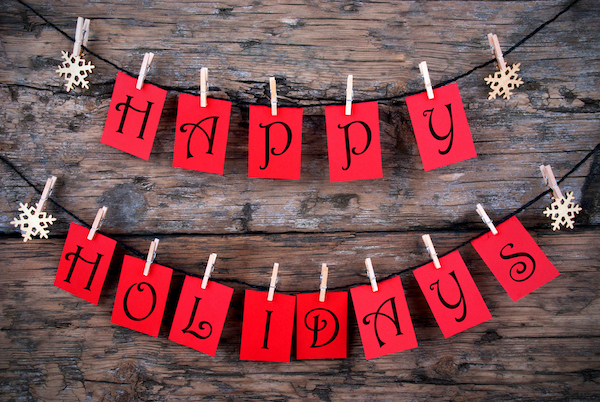 The holiday season is a time for friends and family to get together and enjoy each other's company. Many times, the home is bustling with noise, the dinner table is full of food and people are reminiscing about the past, present and future. But for the seniors in our lives, many have a much different experience. With family spread across the country, possibly hundreds of miles away from each other, remembering to include them in the spirit of the holidays can be challenging.
Many seniors begin to remember times of the past, experiences through the holidays that created joyful memories and excitement. Although the holiday blues may be somewhat temporary as we move to the new year, the loneliness that can be experienced may create a sense of depression or anxiety. According to Visiting Angels which provides living assistance services, roughly 1 in 4 seniors over the age of 65 suffer from some sort of mental challenge through the holidays. That being said, there are some common signs of senior depression that should be noted and addressed including:
Lack of appetite or distaste for food
Extreme exhaustion or fatigue
Problems staying focused
Sadness or anger
Anti-social tendencies
While these symptoms may be somewhat common in seniors, additional factors play a role in their mental state including:
Mobility limitations: As we age, lack of mobility may take its toll on our bodies and mind. With physical limitation comes the realization that we may not be able to do the things we once did when we were younger. This can lead to anxiety, isolation and depression especially around the holiday season.
Past memories: Reminiscing with family and friends around the dinner table is an important social activity that often goes overlooked during the holiday season. Remembering the good times may come with the cost of loneliness or depression creating a feeling of sadness or anger based on the seniors' current state.
Financial obligations: Seniors often feel the burden around the holiday season to provide gifts, food or other items in preparation of the family get-together. This can many times take a toll on the wallet, especially if on a fixed budget.
Living environment: For many seniors, the holiday season is difficult as they may no longer live on their own and feel isolated and lonely in a nursing home or assisted living facility. This may create an uncomfortable feeling or lack of tradition once experienced with friends and family during the independent living stages of their life.
Even though your loved one may be experiencing mental stress while alone during the festive season, there are things to consider that can help seniors feel involved during this joyous time. Here are some tips to help prevent holiday stress and depression.
Acknowledgement: Knowing that someone is thinking of you and cares can create a sense of togetherness even when apart. Remembering to reach out to your loved ones during the holiday season may help them feel connected and create a sense of encouragement as they come to the realization that this experience will most likely be much different than those of the past.
Budget Relief: Before your loved one becomes overwhelmed with gift giving, make sure they understand that presents don't have to be expensive purchases but rather gifts from the heart. Lessening the burden on their wallet may help anxiety-stricken seniors worrying about what to get their loved ones during the holiday season (this also applies to birthdays, anniversaries etc.).
Planning ahead: If your senior is going to be joining you at the holiday dinner table, remember that mobility issues and general senior struggles take time. Planning accordingly can not only relieve your loved ones' stress but also yours as well.
Encourage Exercise: Caring Senior Services promotes three easy exercises to help relieve stress in seniors including aerobic exercise, restorative yoga and casual outdoor activities for at least 30 minutes a day. Fresh air can many times mean the difference between feeling trapped and lonely or free and exhilarated.
Although tips for keeping your senior excited and engaged during the holiday can help, even your best efforts may not be enough. There are times when more serious actions may be needed such as seeking professional help. If your loved one is battling depression or anxiety, plagued by physical ailments, unable to sleep or have a lack an appetite it may be time to call in a professional. Talking to a doctor or mental health provider may relieve some of the stress your senior is feeling. It may also ease the stress of caregivers knowing your loved one is receiving help. A medical alert system can also offer peace of mind to caregivers knowing that in the case of an emergency, your love one is protected by the push of a button if medical attention is needed.
Ultimately, the holiday season should be a joyous time for all and that means taking control of the holidays rather than letting the season control you. Although it can be overwhelming at times, recognizing your holiday triggers can help with the pressures associated with it. With a little planning and positive mental outlook, the holiday season can bring peace and joy to you and your loved ones.
LifeFone understands the struggles that both seniors and caregivers face every holiday season. Providing peace of mind not only through the holidays but year-round may help relieve some of the day-to-day mental anguish many face when taking care of a loved one. That's why LifeFone provides 24/7 medical alert services both in the home and on the go anywhere in the United States. Rated the #1 medical alert system of 2021 by U.S News, LifeFone is dedicated to providing emergency response when it's needed the most. With the holiday season on our doorsteps, providing your senior with the gift of our new VIPx medical alert device accompanied by the Caregiver Mobile App may be just what everyone is looking for (and needs)! For more information about the new VIPx system or any of our medical alert devices visit lifefone.com or call 1.800.331.9198 and as always, have a wonder holiday season!