Shopping At Home Made Easy For Seniors
As we age, living independently becomes harder and more stressful especially if an illness or physical disability is part of process. For years, the only way to get groceries was to get in your vehicle, drive to the store and push a shopping cart around while trying to remember everything you needed back home. Those days are on the verge of changing especially with new and innovative ways to shop for household products from the comfort of your home.
New companies such as Netgrocer.com and peapod.com have launched, taking grocery shopping to a whole new level. These websites now offer "a fresh take on shopping convenience" offering the ability to shop for household items including food from your home and having them delivered in an affordable and speedy method. This new way of thinking about shopping has sparked some of the top companies in the country to change their strategy.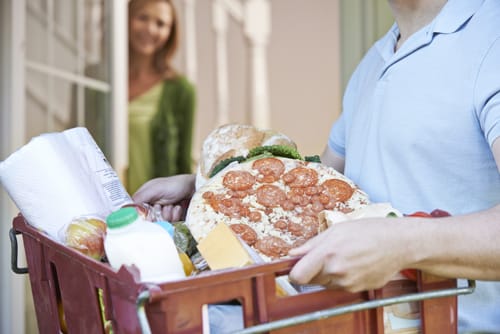 Walmart and Amazon are currently testing new systems in select cities. Their goal is to compete with these new startups for the majority of the market share as grocery shopping takes a new turn. Walmart's motto, "Save Money. Live Better" is really taking on a new meaning when it comes to online shopping and delivery as they are beginning to offer a service that is perfect for the aging senior with limited mobility.. As with any new service and strategy, these options may not yet be available in your city but the goal of these giant retailers is to slowly roll out the program to eventually reach all of their clientele.
For those who currently do not have these types of services in their area, there are many local companies serving seniors who will buy and deliver groceries and household goods for a small fee. Although there is a premium to be paid for these services, it is bridging the gap between seniors wanting to live independently in their home and the need for a constant caregiver.
In any circumstance, an aging senior living at home should always have a medical alert device in the instance an emergency happens. These personal emergency devices summon help when it is needed most and can save valuable minutes in the case an emergency occurs. They can also be used for safety purposes in the case a break-in occurs in your home or even as a way of answering your phone.
Technology has come a long way from past days when seniors typically moved into a living facility to provide for all of their needs. The goal for family members who are worried about their loved one living alone is to provide the information and help they need to keep them living safely and without worry. Expect to see more technology advancements and keep a look out for grocery delivery services coming to your area in the near future!