Using an exercise room or going to the gym is great, but when you can get outdoors, you should do so. At LifeFone, we have eight outdoor exercises to help keep you in shape and enjoy the fresh air.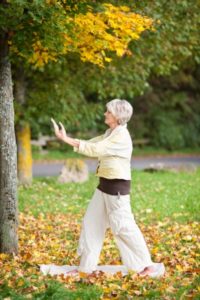 Not everyone is an athlete or a serious exerciser, but getting exercise is good for you: body mind and soul. Some of the best physical activities are done without the use of any equipment. These workouts can do wonders for your health by keeping your weight under control, strengthening your bones, protecting your joints, and even warding off memory loss. No matter your age or fitness level, these activities can help you get in shape or keep you there.
Balancing
Balancing isn't easy for everyone. Being able to balance not only helps tone and strengthen your muscles, it also helps strengthen your brain. Balancing improves stability and helps prevents falls. Start by holding onto a park bench or chair, and lift one leg, and then switch sides. As you get more comfortable, do the same without holding on, but, with your stabilization device close by.
Swimming
Swimming could be called the perfect workout. The buoyancy of the water supports your body and removes the strain off painful joints allowing them to move more fluidly. It's especially good if you experience any aches and pains associated with arthritis, as it's less weight bearing.
Water Aerobics
While in the pool, you can participate in water aerobics. This type of exercise increases muscle strength and flexibility, while having a positive effect on arthritis and blood pressure.
Enjoy yoga
Another activity that can be done outdoors is yoga. You can practice yoga alone or with a friend. On the beach or at the park, yoga is one of those exercises that can be done almost anywhere.
Tai chi
This Chinese martial art combines movement and relaxation, and is good for both the body and the mind. In fact, it's been called meditation in motion. It's a form of exercise that helps strengthen your ability to balance.
Run around with your grandchildren
Keeping up with your grandchildren is another great way to get outside. Play a game of catch, tag, or even some basketball with them. Not only does it help keep you loose and limber, it builds great family memories.
Strength training
Strength training doesn't equal muscular, brawny arms. Lifting weights won't bulk up your muscles, but it will keep them strong. The more muscles you have, the more calories you burn. To do this you still don't need to invest in weights. Use a one pound can from your cupboard to get you started.
Yard work
Yard work is a fantastic form of exercise. Mowing the lawn, gardening, and other spring cleaning keeps your body in motion and your mind focused.
Consider joining a group that offers outdoor exercises that pique your interest. Not only will that help keep your body healthy, but social activities help boost your mood, also. Meeting new people is always good for you.
At LifeFone, we are sure that you'll find one or two of these outdoor exercises that is good for you. Whether at home or on the go, we always recommend you have your medical alert device with you in case of any emergency.