Mother's Day Gift Ideas Your Mom Will Love!
Mother's Day is fast approaching and you may already be wondering what you will give your mother this year that she will truly love. You know that flowers, certificates for spa treatments, chocolates, dinner at a fine restaurant or for a new mom – a day off from childcare. For a mom in the Sandwich Generation, an offer of a day off from caregiving for adult parents would be appreciated.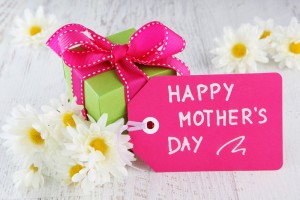 Did you know, according to the National Retail Federation, in 2015 individuals spent close to $22 billion on their moms? It's true!
Have you ever wondered if your mom might want something other than flowers or chocolate? How about access to new technology or a new gadget that she will love? Consider offering your mom an upgrade on her current smartphone. If she never leaves home without her phone, shop for some must-have accessories like an additional charger or a new phone case.
Ask your mom what type of things she does with her phone and show her some apps that can help make her life easier. For example, show her some unique calendar and to-do apps. Offer her a few apps to check out and then splurge for a paid app so she doesn't have to deal with ads. The same goes for any games she may like to play on her phone – offer to upgrade her account to a paid app so the ads go away.
Look for apps to help keep your mom connected in way that's easier than going through Facebook or sending an individual text. An app like Slack.com is ideal (and free) for a mom on the go who wants to keep in touch with the family and send group messages or reminders.
An app that benefits mom and family throughout the year is LifeFone's Family Guard™. It offers all of the benefits of LifeFone's Mobile Alert™ – a personal panic button that you can assign to your cell phone or a family member plus the ability to monitor real-time locations for up to three family members. It provides added peace of mind by giving you arrival alerts for your loved ones. For a mom on the go, especially one with children at home and the responsibility of taking care of aging parents, this app and subscription program is one that offers year-round benefits for everyone.
There's no app for this, but give your mom the gift of time. Whether you make a commitment to visit her regularly, or invite her to your home for a home-cooked meal on Sundays, the gift of time is one that she – and you – will cherish and one that will build memories that will sustain you for years to come! If you don't live close to your mother, consider investing in a computer or tablet where you can have "face time" visits. These planned video chats are a great way for you to stay involved in her life and for her to remain involved in your life and in the lives of any grandchildren who may be in the picture!