Gardening Safety Tips For Seniors
Now that spring is in the air and summer is following closely on its heels, chances are you are feeling spring fever and along with that comes the thought of, "I'd like to plant a garden!" Gardening is a great way to feed yourself and your family fresh grown produce and it's also an ideal stress reliever.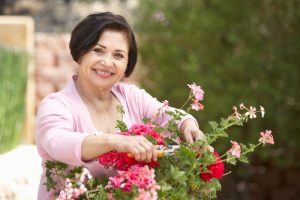 Many home and garden centers are ideal sources for the type of plants to grow in your backyard or patio garden; they will offer you care tips and will tell you which plants may grow best in your particular soil and in the amount of sun and shade you have available.
Even though gardening is a great way to get out-of-doors, you need to do it safely and this is even more important for senior citizens or those who either live alone or have balance or health issues. Our medical alert devices allow you to safely work in your garden while still having access to lifesaving medical assistance if necessary.
Here are five ways to practice safe gardening this spring and summer:
Garden in raised beds or in raised pots. This makes it easier to perform your gardening duties without straining your back or knees. Raise your plants to a level that allows you to comfortably sit on an outdoor stool.
Gardening can put you into a meditative state, but you need to be certain you're not performing so many repetitive tasks and for such a long time that you cause yourself injury. Depending on the position you're in you could suffer neck stress or strain, strain on your knees or back and even develop issues with hand pain. Take frequent breaks. Stand up, stretch and then get back to your tasks.
Make certain you are wearing sun block and a hat to keep the sun of your neck and face. Wear gloves. Wear long sleeves and even long pants while you're in the garden and playing around in the weeds. Stay hydrated. Bring a bottle of water and take frequent sips.
Keep your cell phone with you, this is especially important if you have the LifeFone mobile app. If you suffer an injury or a health scare you can push the button and have immediate access to a LifeFone professional who will stay on the phone with you until medical help arrives. If you have a LifeFone home medical alert device with a pendant, make certain you are wearing your pendant and that it can still communicate with the base when you're out in the garden.
Understand the risks in the garden area. What risks? Tools or hoses left lying around could be tripping hazards. Also, staying out in the sun for too long can lead to dehydration (see tip three above) so be aware of the heat of the day and the sun's intensity and consider working when the sun isn't at its hottest.
Enjoy your garden and enjoy the fruits of your labors this summer!