LifeFone Offers Check-in Services
Caregiving is among one of the most important jobs a person takes on during his or her life. It's a task that takes time and patience and one that most of us are never prepared for. Being a family caregiver takes a lot of time, effort and work. For many, it's a role that comes on suddenly, without warning or simply evolves.
LifeFone offers medical alert systems, with or without a landline, with GPS and with Fall Detection. We also offer check-in services to help provide peace of mind for care recipients and their families.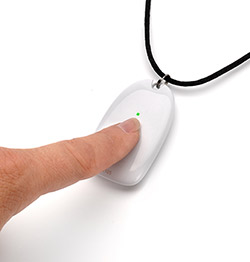 LifeFone Activity Assurance:
LifeFone's Activity Assurance Service enables subscribers to check-in with an emergency care agent in the call center each day. By pressing a button on their base unit, it lets our center know whether or not they are at home and responding to the reminder. This service is available with the at home landline service only.
LifeFone Daily Check-in Call:
With the daily reminder service, LifeFone care agents will make a daily outbound call to the subscriber. The subscriber customizes the calls to fit your needs. LifeFone can call simply to find out if the subscriber is ok, provide him or her with a medication reminder, or any type of reminder desired. Each day, the subscriber will hear the warm, friendly voice of a customer care agent who knows him or her by name and is concerned with that subscriber's well-being.
LifeFone Medication Reminders:
A big concern is often whether a loved one is remembering to take their medication. LifeFone's medication reminders will tell a subscriber when and what medication(s) he or she needs to take on a daily or weekly basis. And when medications change, the information can be easily updated. Any of these services can be added to an existing subscription
LifeFone Location Service:
LifeFone's Location Service enables an authorized caregiver authorized to know the location of the subscriber's LifeFone mobile device if the subscriber uses one of LifeFone's two on-the-go systems. This feature is very helpful if and when you need to locate a loved one