Eight Simple, Yet Elegant Holiday Décor Ideas
The Holidays are right around the corner, and we know you want to spruce up your home or apartment in festive ways. LifeFone has eight simple, yet elegant Holiday decor ideas for you.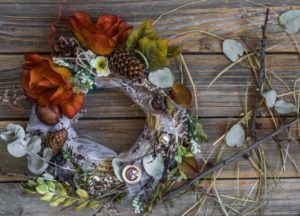 1) Find a wreath made out of grape vines or similar material. With that, you can add flowers and leaves to welcome in Thanksgiving, and the cooler, crisper temperatures. You can then transition the fall-like flowers and ornaments to Christmas or winter style flowers and ornaments.
2) Using different colored Christmas balls, you can spruce up your mantel, buffet or dining room table. Add a variety of colors and shapes to a large jar, vase or bowl for a colorful decoration that adds style and elegance to any room.
3) Head outside and find some pine-cones. You can easily spray paint them with hints of silver, red, gold, or green to add them to your brightly colored Christmas ball display. You could even add a drop or two of cinnamon or evergreen scent to them to add a warm, inviting fragrance to your home.
4) Buy some gift bows in colors that suit your taste. Use some white, silver, and gold ones mixed in with your favorite colors and attach them to strings. Then, hang them at your windows for a sparkly 'snowy' appearance. You could even attach the strings to doors for a hint of decoration.
5) If you are hosting a meal, purchase napkins to fit the holiday and wrap the table settings neatly in the folds. You could also buy some little stockings into which you can place the silverware.
6) Decorate your cabinet doors with ribbons and ornaments. Simply thread the ribbon through your door handles, and attach an ornament on each end. Perhaps choose complimentary colors for an added touch.
7) A garland draped over a doorway is a beautiful touch. You can purchase one that is pine cones, or find one that is evergreen from a Christmas Tree farm. Use to enhance your foyer, living room or dining room. If you have a stairway, you can wrap the greenery around the banister for a nice decoration going up the stairs.
8) Battery operated candles are also available. Add them to different parts of your home for some festive lighting and to add warmth to your holiday decor. It's easy and safer to decorate without the use of candles, which can be fire hazards, or electrical cords that could cause you to trip and fall.
At LifeFone, we want you to be safeguarded against accidents in your house. With one of our medical alert devices, you can be assured when needed, assistance is a push of a button away.