Helping The Elderly Downsize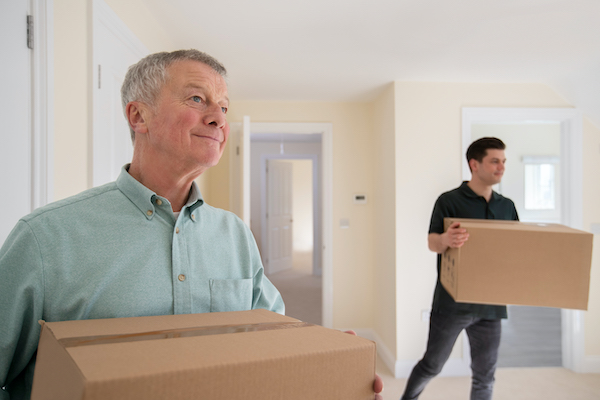 When retirement is around the corner, most seniors plan to downsize. Retirement is a new beginning for them rather than an ending—they move to a new house in a new area with new neighbors. However, as simple as it may sound, the process of downsizing is full of emotional and physical challenges for everyone. While they have to be careful and prevent injuries when shifting, they also have to be emotionally strong when going through the daunting task of getting rid of the belongings that they hold close to their heart.
If downsizing is on the list of your loved ones, then you have come to the right place. In this blog, we will share ideas to make the transition smoother for your older adults.
Dealing with the emotional pain of downsizing
Several reasons make the idea of downsizing intimidating for older people. First, there is a lingering uncertainty that bothers them the most. They are unsure if they will like the new home, its atmosphere, and the area, in general. They do not know if they would be able to adjust in a smaller space or not. This does not only lead to sadness but frustration too.
Secondly, as mentioned above, downsizing is not only about cutting back on square footage but also important things that hold sentimental value. When downsizing, people sometimes have to purge up to as much as 50% of their current belongings. The dilemma of what to keep and what not to keep can further take a toll on people's mental well-being.
Here is how you can help your loved ones downsize less painfully and happily…
Make them used to get rid of things
Things hit harder when they come all of a sudden, but when a person has anticipated it, they acclimatize better and faster. Therefore, before time approaches, you start decluttering the space and getting rid of stuff that your loved ones are not emotionally attached to. This will help them make letting go a habit.
Donate and don't discard
Simply throwing away will be more painful than donating. When you donate the items to a non-profit organization, your family member will know that their belongings are still valued and will be valued even when given to someone else. They will know that their things have been put to good use.
Make them look on the brighter side
Assist them in changing their perspective rather than taking downsizing as a negative experience, encourage them to think of it as a new beginning, and convince them that their new life will be even better. Let them know that the new house is safer for them and easier to maintain.
Let them speak their heart out
Learn to be a good listener and be patient as they share their feelings with you. They will, naturally, feel like crying because this is the house where they have spent the whole of their lives. Lend a shoulder to them to cry on. Do not let them bottle up their feelings as it will harm their health. Let them know that you are and will always be there for them.
Let them keep the memorabilia
For them, getting rid of all things that hold emotional value would mean getting rid of their identity, and you would not want it. Therefore, create a small, safe space for them to keep some of their souvenirs and memorable things.
These are the little efforts you can put in to help make the transition of your loved ones' smoother. Once the emotional challenges are sorted, you may want to consider hiring a professional to help you strategize, sort things, and take care of the physical aspects of downsizing.