Caregivers Receive Extra Support With The VIPx and Caregiver Mobile App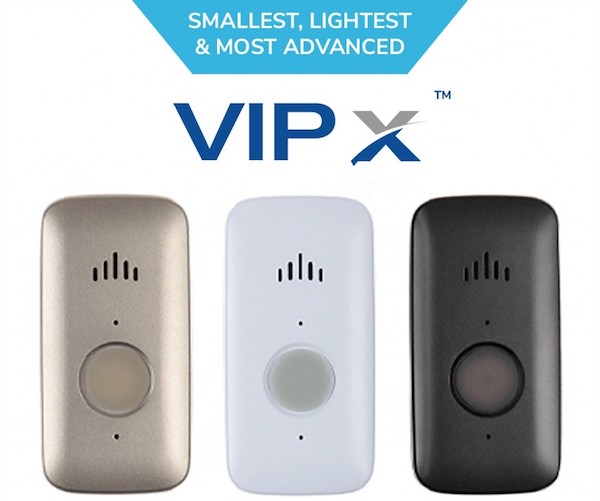 The new VIPx medical alert system has finally arrived and with it comes some additional help for both users and caregivers in the form of LifeFone's optional Caregiver Mobile App.
The smallest, lightest and most advanced medical alert device, the VIPx at-home and on-the-go system offers a voice-in-pendant with optional fall detection that fits in the palm of your hand. Weighing less than an AA battery, this newest medical alarm works nationwide using Lifefone's AT&T or Verizon service, is water resistant and comes in three colors. In the case of an emergency, the advanced location technology can pinpoint a user's whereabouts by utilizing WiFi, GPS & Cellular service.
Additional features include:
Long Lasting Battery – Up to 16 days on a full charge.
Personalized Emergency Care Plan – Receive up-to-date phone, email and text notifications.
Caregiver Mobile App – An optional add-on with real-time information displayed on a mobile device.
Helping Caregivers With Peace Of Mind
The VIPx Caregiver Mobile App is perfect for those looking after loved ones yet require additional functionality and resources when not present. The optional add-on works seamlessly with the VIPx system, providing location tracking, daily step counting, first motion of the day, button presses and battery level monitoring.
The Caregiver Mobile App offers:
Location Tracking – Find your loved one right through the mobile app anytime, anywhere.
Button Press History – Receive notifications directly to your mobile device when an alert is activated.
Activity – Track daily steps and view a 7-day history.
First Motions – Receive notifications when first motions are detected along with history details.
Battery Level – Check battery level and receive notifications when charging is required or the unit is powered off.
Find Lost Device – If the VIPx unit is misplaced, simply check the location tracking while also sending a manual ring to the device to help locate it.
The ultimate package, the VIPx system in conjunction with the Caregiver App offers increased peace of mind for both subscribers and caregivers with real-time notifications and 24/7 monitoring. With helpful information right from a mobile device, the mobile app enhances the experience while creating an additional level of security and peace of mind for caregivers.
If an emergency situation does occur, LifeFone can summon help to the user's exact location, saving valuable time when seconds count. With the addition of the optional fall detection, users are fully covered by the #1 rated medical alert system of 2021 as rated by U.S. News & World Report. No activation fee, a 30-day money back guarantee, locked-in lifetime pricing and the option to cancel at any time, LifeFone is ready to ease the stress of caregiving by offering an easier way to help monitor your loved one.