Family Caregivers Month – Roles & Responsibilities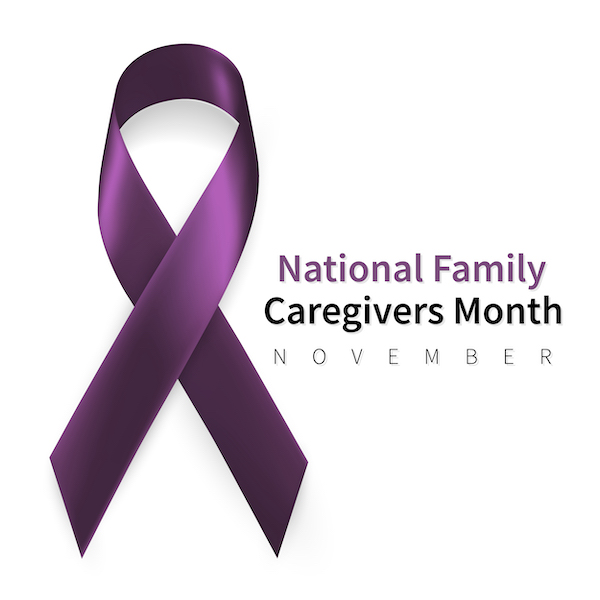 November has arrived ushering in big changes in the weather. It also reminds us that the holiday season is near and that the year 2021 is almost behind us. What we often don't recognize is that November is also National Family Caregivers Month, a time to recognize the roles, responsibilities and sacrifices that caregivers endure day-in and day-out. Here are a few things to consider when recognizing all that caregivers do to keep our loved ones safe and comfortable as they age.
Let's start with understanding who is considered a caregiver. As defined by Johns Hopkins, "In simple terms, a caregiver is a person who tends to the needs or concerns of a person with short- or long-term limitations due to illness, injury or disability. The term family caregiver describes individuals who care for members of their family of origin, but also refers to those who care for their family of choice". Basically, a caregiver is someone who helps others when in need. Rosalynn Carter, former First Lady of the United States, summed it up beautifully by stating, "There are only four kinds of people in this world: those who have been caregivers, those who are currently caregivers, those who will be caregivers and those who will need caregivers. Caregiving is universal".
If the former First Lady is correct, everyone will eventually become a caregiver or will need one. So, let's clarify their roles, challenges and a few ways we can all help recognize what they do and show appreciation during National Family Caregivers Month.
The following are a few things caregivers typically find themselves doing.
Do you transport family or friends to medical appointments?
Monitor their medication or medical condition?
Communicate with healthcare professional on their behalf?
Help with bathing or showering?
Assist with housework, groceries, meal prep or manage finances?
If you've answered "yes" to any of the above, you may fall into the definition of a caregiver! Also, if you answered "yes" to any of the above questions you know that there are many challenges associated with it. American Senior Communities (ASC) has identified a few challenges that are most common for family caregivers and how to overcome some of the physical and mentally draining aspects of it. Here are just a few:
Time management – If you've been there, you already know this is a big one! Not only does being a family caregiver take up tons of time throughout the days, weeks and months but it also creates a sacrifice on behalf of the caregivers' personal life potentially requiring that they give up hobbies or things they may enjoy.
Stress – This goes hand in hand with time management. According to ASC, 22% of family caregivers reported their health declined as a result of becoming a caregiver.
Privacy (or lack thereof) – If the family member is living with you, a lack of privacy can become a real concern, leading to stress which is also a result of less time for yourself.
Financial Burdens – Many times, family caregivers are unpaid but also work in order to take care of their own expenses such as a mortgage, electricity and food.
Depression – Unfortunately, a caregivers social life may take a backseat to the needs of their loved ones. This is a result of lack of personal space, stress, time management and financial burdens placed upon the caregiver.
Lack of Sleep – We can all agree that without proper sleep, daily life becomes more difficult and can take a huge toll on mental and physical stability.
As you can see, the most common challenges that caregivers face are all interconnected, many times with one affecting the other. Without sleep, we can't be our best caregiver. Without time management, we have no time for ourselves or our social lives. If finances become an issue, it can create stress. One reaction can trigger others so it's extremely important to remember that setting aside time for ones' own passions and interest is vital. It can mean the difference between making it a bonding, memorable experience or falling into a rut of depression and anxiety without the social interaction and support they may have previously had.
Family caregivers and caregivers in general are put through both mentally and physically exhaustion situations so it's essential to recognize their sacrifices. AARP recommends a few of the following actions to help caregivers cope with their position.
Listening & Understanding – Offering emotional support can be crucial when the stress of a caregiver starts building up. Advice and recommendations can many times come across as criticism but taking a step back and letting someone vent can be very rewarding for both the caregiver and the listener. We've all been in a position thinking, "I wish they were in my shoes". Putting yourself there and showing that you care by listening to concerns and worries can help caregivers feel supported and appreciated.
Helping Out – We all need help at times and anyone that says they don't most likely don't realize it! Offering to run an errand or pick up dinner one night can mean the difference between a very busy day for the family caregiver or extreme appreciation for your help and sacrifice. Words are great, but actions, many times, show you care!
Gifts – Hey, who doesn't like being pampered or have a night out at a nice restaurant? As we've discussed above, time management, privacy and financial burdens can become a toxic mixture. Sending a gift card to your family's caregiver to show appreciation can go a long way!
The Gift of Time – We've discussed how valuable time is and how it plays an integral role in all the other challenges caregivers deal with on a daily basis. If a sibling or family member is doing the majority of the work, consider stepping up to the plate and offering them a day off. They will appreciate it (maybe even more than the gift card to their favorite steak house)!
At LifeFone, we know the struggles that caregivers face every day which is why we offer the #1 Best Medical Alert System for 2021 as ranked by U.S. News & World Report's 360 Reviews team. With the holiday season right around the corner and November representing National Family Caregivers Month, providing a medical alert system, such as the new VIPx device for their loved one, accompanied by the Caregiver Mobile App, may be just what they are looking for. By providing peace of mind with the benefit of monitoring your loved from anywhere, a medical alarm device can provide increased peace of mind, additional personal time and may reduce stress. Receive more information about the new VIPx system or any of our medical alert devices or call us at 1.800.331.9198.