Daily Summer Activities for Seniors
Summer is a great time to get out and enjoy the nice weather. Not only does summer create a sense of enjoyment due to the warm weather and sunshine but also it creates health benefits, mood benefits and can even sharpen the mind of your aging loved one.
Although summer is a perfect time for getting outdoors and enjoying the fresh air, safety as we age becomes a concern as things like dehydration, heat exhaustion, heat stroke, and heart related illnesses increase. That being the case, here are a few fun summer activities for your aging senior to help keep them active yet safe all summer long.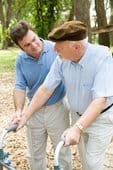 Walking: This is a great exercise that can help shed pounds, increase your daily mood and overall make you healthier. The key is to take your walks as early in the morning as possible to beat the afternoon heat. Remember to take plenty of water, wear sunscreen and light clothing and always be back inside before 10am if possible.
Swimming: Similar to walking, this is a great exercise for overall health and mental wellness. Swimming is actually better than walking as it is less impactful on your joints and typically will keep you cooler and engaged longer by keeping your body temperature down while exercising. Remember to always swim with a buddy.
Gardening: Most seniors and caregivers alike don't consider gardening a physical activity but it does require a lot of movement and burns more calories than you may think. If you don't have room in your own yard, think about joining a gardening club or volunteering at a local park. The same rules apply to gardening as walking, be sure to do it early and have plenty of water with you at all times.
Community Center Involvement: At local community centers you will find that they often have activities for seniors. Dancing is a great way to get the body moving and engaged in social activities while creating a sense of community and involvement. They may also have activities like water aerobics, indoor exercise classes and even tours to museums, aquariums or cultural events!
Remember to continue your normal routine year round. That means if you have an exercise you do everyday in the home continue it! Keep in contact with loved ones and always prepare for the summer heat by staying hydrated, dressing appropriately and doing outdoor activities early and with a buddy when possible. If your aging senior is often doing outdoor activities, an on-the-go medical alert device might be a great investment to keep your senior safe in the case of an emergency. With the press of a button, help can be contacted and valuable minutes saved when they are needed most. To learn more about LifeFone's different products visit their medical alert devices page today.