Seven Beauty Tips For Seniors
Gone are the days of looking your age; 70 is the new 50 they say and nothing is more refreshing then seeing the confidence of the person looking back at you in the mirror. Looking at a vibrant and youthful reflection reminds you that age really is just a number. How exactly can you maintain that healthy glow? Below is a list of seven beauty tips for seniors to help reduce the signs of aging.
Stretch your muscles – Keeping your muscles loose and limber helps to improve poster and increase mobility. LifeFone recommends that you consult with your Primary Care Doctor or trainer before beginning any exercise routine.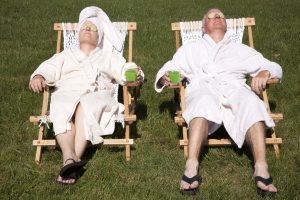 Break away from bad habits – Breaking away from bad habits may seem impossible, but they truly aren't. You don't have to go it alone. There are support groups for smoking, overeating, excessive drinking and so on. Old habits are hard to break, but you'll feel great once you do, and setting healthy goals as you go along.
Drink your water – Your body is comprised of 90% water. Staying hydrated is one of the best ways to keep yourself looking and feeling your best. Keeping a water bottle full, and with you throughout the day is a great way to be sure you are drinking a good amount.
Change your Wardrobe – There is no need to get rid of everything in your closet. Take some time and go through the things you have and get rid of items you haven't worn in a while. Add a few new versatile pieces, and everything will look new again.
Try something new – Mix up your routine a bit. Take a yoga class, art class or join a book club. Even getting a new hair cut can help you look and feel younger.
Splurge – Spend your money on those things you really want! Perhaps it's a new set of golf clubs, a bicycle, or a vacation you've always wanted to take. There's no reason not to pamper yourself now and then.
Accept Change – Just as we change over time, so do our bodies. The best thing you can do for yourself is make choices that are good for you now, not five, ten, or twenty years ago. You'll feel better, and look great!
These seven beauty tips for seniors are ideas that we, at LifeFone, are sure you can use as a springboard to come up with even more ways to keep that healthy glow.