September Is National Preparedness Month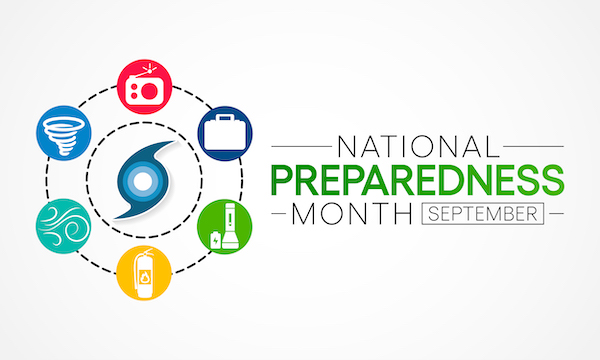 The theme for National Preparedness Month for 2022 is "A Lasting Legacy: The life you've built is worth protecting. Prepare for disasters to create a lasting legacy for you and your family."
Preparing for disasters and emergencies is something that is generally not on most to-do lists but is so important. From creating an emergency kit to updated lists of emergency contacts and communication plans, it's never too late to get started.
Here are some additional, practical step you can take to feel more prepared.
Learn some lifesaving skills such as CPR and first aid.
Review your insurance policies and coverage for flood, earthquakes, hurricanes, tornados and fire.
Set aside some funds in the event you have to take shelter in another location other than your home.You may be faced with hotel expenses, food bills, medical bills and more.
Find out if there are dedicated emergency shelters or other resources in your area.
Other things you can do include:
Preparing children and grandchildren. Disasters can leave children feeling very unsettled and scared. Talk with your kids explaining that disasters and emergencies do occur but that you're prepared. Have practice drills, explain where to meet if something occurs and you get separated and plan for how family members who do not live together will get in touch with one another.
Making a plan for your pet(s). Whether your pet lives primarily indoors or outside, it's important to consider their needs as well. Plan to have food and water available, find out if there are emergency shelters for pets and create an emergency care kit for them too.
Medical emergencies pose very important considerations. If someone in your family has concerns about falling or conditions that make getting fast help when seconds count, a medical alert system can be so valuable. These systems come with a back-up battery that last anywhere from hours to days. In the event a storm is in the horizon, it's wise to ensure the system has been fully charged to take advantage of the battery life when needed most. With LifeFone's at-home systems, the battery lasts up to 32 hours. Our at-home and on-the-go systems have batteries that last anywhere from 30 hours to up to 16 days.
For more information on preparedness, visit Ready.gov.