Most people think of personal medical devices and other similar systems as being something used by the elderly or the ill, but these devices can be literal life-savers for individuals who work alone at night. With a LifeFone Mobile Alert you and your family can be connected and safe whether you're at home or working alone.
Lone worker safety
When you work some shifts, like the "graveyard" shift, you may be worried about being alone in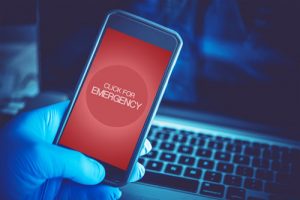 an almost empty building or warehouse. It's not a fear or worry to be pushed aside. By law, your employer does have the responsibility to protect you and other workers, regardless of what shift they work.
Personal safety is the duty of the employer, but if you're the one working alone at night, you will want to take some personal responsibility and there are myriad ways to do that.
Invest in a LifeFone Mobile app so you can get help fast with the push of a button right from your smartphone.
Ask your employer what steps are being/have been taken to ensure safety when you're working alone
If there are other employees working, even if they are in different areas or buildings, "buddy up" by making a note to check in with one another every hour.
Ask your employer whether any of these safety measures are in effect:
Have they conducted safety risk assessments?
Are there clear action plans in case of emergency?
Have you been trained on how to respond to emergencies?
Are there tasks that are off limits when you're a lone worker?
Does your supervisor, or another employee, make periodic visits to your work station or location?
Do you have access to a radio or phone to call for help?
Are there automatic warning devices available for you to use to alert others if there is an emergency?
Make certain you understand the safety measures your employers have in place and then decide whether it makes sense to invest in your own personal safety app. The peace of mind it brings will be worth the low cost you pay.