Tech Tools for Caregivers
Many mid-lifers are now caring for their aging parents. With the amount of technology at our fingertips, that job is getting more manageable.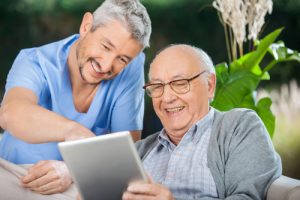 For instance, Samsung makes a cell phone designed specifically with your loved one in mind. The Touch3 Galaxy is made for older adults and intended to be an assist for caregivers. This phone comes with larger screen icons, and a minimal amount of applications built in. It's set up in a way that makes finding contacts, text messaging and pictures are more easily accessible.
Caregivers can also keep track of their loved ones with Lifefone mobile app, a family tracking and monitoring device.
With the advent of virtual medicine, some of the simpler things can be taken care of electronically. Driving mom to and from the doctor often times cuts into your own work day. Being able to send readings such as blood sugar levels and blood pressure via online applications, can cut down the amount of trips being made to doctors office.
In relationship to caring for someone with dementia, being able to track them is vital. Many elderly family members may not like wearing a bracelet or carry a phone all the time. However, you can now get a pair of shoes that has a GPS monitor in them. Parents suffering from dementia like to wander and having this type of shoe can save you hours of panic and searching.
While we all love paper and pencil, switching to a digital records makes important documents accessible anywhere, without having to remember your notepad. Google Drive and Google Calendar then available at the touch of a finger.
In many cases, the elderly experience hearing loss. Often times they may miss important phone calls. Adding a device to their phone with a blinking light can prevent that from happening. Adding an amplifier to the phone also increases their ability to hear the caller.
The above is a sampling of ways you can make caring for your loved one simpler without reducing the care that you give them. Technology can be a help.