Choosing The Correct Socks And Shoes
As we age, our bones and muscles weaken. This often makes it difficult to keep our balance while walking. Choosing the correct socks and shoes can help eliminate potential falls.
No shoe is 100% fall-proof. However, there are several factors that can make a shoe less likely to cause a fall. Consider these points when purchasing new shoes: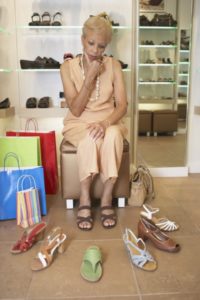 Non-slip and shock absorbent soles
The most important part of purchasing shoes is to have a hard, slip-resistant sole. The sole must firmly grip the surface, even in wet, slippery conditions. A rugged, rough bottom will provide the right amount of grip while walking. The sole should also be shock-absorbing and light. This gives a softer impact on the ankles and heels.
Comfort
Safe shoes also need to be comfortable. They should not increase pain in the feet or lower legs. The material of which the shoe is constructed should allow the feet to breathe. This helps reduce irritation or itching do to heat. This is important, especially if you wear your shoes for an extended period of time.
Adequate padding
Soft, padded shoes will form a good, secure fit. They will also prevent bruising and abrasions caused by constant friction. You typically feel the friction at the back and top of the foot.
Toe width
You can easily purchase shoes with different toe-widths. As you age, a broader shoe can help with stability. Or, if you have wider feet, you'll feel more comfortable with a shoe that has a wider, boxy front. You want to make sure your toes have enough wiggle room at the top.
When purchasing socks to wear around the house, there are many styles to choose from that have a non-slip bottom. Socks with non-slip bottoms can help reduce falls in the rooms that have wood or tile floors, such as the kitchen or bathroom.
Before you start thinking that your new socks and shoes can't be fashionable, you would be incorrect. Fashion is catching up with safety. There are many options of walking shoes and dress shoes that now come in a variety of colors and styles, and also incorporate the features needed in new shoes. The socks that are designed with non-slip treads on the bottom are coming in colorful, fancy designs also. You can have both: safety and style.
While on your walk, a night on the town, or taking care of things at home, should you take a spill, the security of a medical alert device from LifeFone can have emergency personnel to you in moments.