Signs That It's Time For A Medical Alert System
It's common to believe that as we age we will still be able to live a normal, healthy and active lifestyle; the problem arises when we take for granted our health and stability. Deciding upon the right time to purchase a medical alarm system can be challenging when living independently has been the norm for so long. LifeFone provides a few signs to help you determine if it is the proper time to consider a medical alert device for your aging loved one.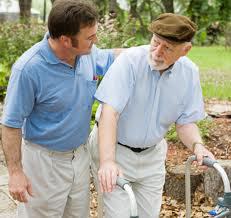 Do family members worry about their aging loved ones?
As our loved ones age it becomes a constant struggle to monitor their health and safety. As time progresses and caregiver roles change, worrying about a loved one can become a more frequent occurrence. If family and friends are constantly worried about the safety of their elderly counterparts, it might be time to relieve the stress and tension by purchasing a medical alert device. This will ensure that when no one is around, in the case of an emergency, your loved one is just one press of a button away from emergency help. That sense of assurance should allow everyone to sleep better at night!
Has a health scare or fall occurred?
A key sign to when the purchase of a medical alert device is essential is in the event of a fall or health scare. Each year, hundreds of elderly family members fall without the ability to summon immediate help. They may stay in the same position for hours or even days until someone finds them. At that point, it may be too late to counteract the negative effects of a fall. With the push of a button, emergency help can be called when it is needed most!
Does anyone live close?
Although we all want to be close to our loved ones as they age, life may get in the way and create distance between the one that needs the help the most. If a caregiver lives more than 15 minutes from their loved one, summoning help via a LifeFone medical alert could help save time when an emergency does occur. Time is of the essence when things happen and knowing that LifeFone can get help immediately is crucial if anything ever were to happen.
If any of these scenarios fit your current situation, it may be time to order a medical alert system from LifeFone. With 24/7 protection, 365 days a year, your loved one will be just a press of the button away from immediate emergency help if a situation occurs. For more information or if you have any questions please visit our website at LifeFone.com or call 1.800.882.2280. We will be happy to discuss any concerns you may have and help you decide on which system is right for you!