Safety Tips For Travelers
Whether you're a world traveler jetting across the globe or if you're traveling for vacation or for an occasional business trip, it is wise to remember you're not at home and because of that you want to practice safety.

What can you do to keep safe when you're traveling? Here are a few safety tips for travelers to keep in mind.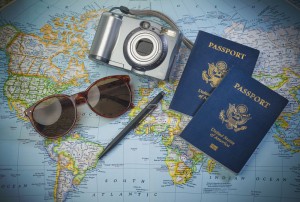 Ensure Your Own Safety
Install a tracking app on your phone so your family or your employer knows where you are. This is of concern in case of an emergency of any kind. A tracking app can keep your family's mind at ease. Other ways to ensure your safety are to travel with a companion, stay in well-lighted areas, and don't go into places that you're not familiar with – especially at night.
Arrange your transportation with a hotel employee rather than flagging down your own ride.
Know how long it should take you to arrive at your destination and have an idea of the route; this will help assure you're not being taken on an extended path to reach your destination and being charged more than necessary.
Don't Look or Act Like a Tourist
Don't stop on the sidewalk to unfurl a map. Use a navigation app on your phone that can guide you on both walking and driving route and pay attention to your surroundings.
Know which destination hot spots you want to visit while you're traveling, email yourself the phone number, address and distance from your hotel; this way you have a record of where you're going and an idea of the length of time it will take to get there. If you have this information in a single email to yourself it will save you from having to search for it. Also, having the address electronically will help with navigation apps.
Be a Wise Consumer
Use your smartphone to help you find shopping centers, restaurants or sight-seeing destinations. Many apps on your phone will also offer ratings of a particular location.
Purchase a local newspaper to learn about the customs of the area as well as the political climate. A local newspaper is a great resource for finding restaurants and entertainment venues you may want to visit.
Protect Your Home
If your home is vacant while you're on vacation, don't "check in" at locations while you're out. This is like extending an open invitation to a burglar. Social media is fun for sharing, but you need to do it wisely, especially if your home is vacant while you're away.
Be Hygienic
No one wants to become ill on a trip. Even if you don't use hand sanitizers at home, it might make sense to carry a portable hand sanitizer with you on a trip. Airplanes are a breeding ground for germs. Clean the tray at your seat, wipe off doorknobs in your hotel room, wipe off television remote controls and other items in your hotel room. Clean your hands frequently.
Don't Let Stress Show
Have you heard the phrase you, "you catch more flies with honey than with vinegar"? This idea holds true when traveling. Even if you're stressed, don't take it out on the person in front of you who is trying to help. Be polite and you will get much further.
Make Copies of Important Documents
When you travel you will need your driver's license, your passport, your insurance card and credit cards. Make copies of these documents before you leave home. Store them in a safe place, but one that can be accessed in case you need copies. Keep copies of these documents – fronts and backs – on your phone but also backed up onto your computer (just in case your phone gets stolen).
Traveling can be stressful, but it can also be an amazing way to explore a new location, indulge in a much-needed family vacation or to find a new client. Pre-planning will help make it a more enjoyable, and safe, time for everyone.