Right at Home – Quality In-Home Care Agency
While we know that seniors would rather age in place, we also know that there comes a time when they may they need a little help! That's where Right At Home comes into play.
Right at Home is a senior care agency in business since 1995 with domestic and international locations – and they just happen to be the 2nd largest home care agency in the world! Their mission is to "improve the quality of life for those we serve, and we fulfill that mission through the right people caring for your loved one, the right in home care services, and the right approach to ensure your peace of mind".
We spoke with Lou Giampa, President/Owner of Right at Home Westchester, NY. What we learned was fascinating and music to our ears because we share the same concern for the elderly and seniors who simply need a little hand from time to time.
The caregivers at Right at Home are Certified Nursing Assistants (CNA's) and Home Health Aids. They undergo training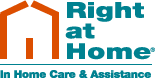 through Right at Home University so they are well versed in how to care for clients with all types of needs including those with Alzheimer's and Dementia. Through specialized training & evaluation, the agency is able to properly place the caregiver with the care recipient. This is so important to ensure that the client is well cared for and happy with the services provided.
Mr. Giampa explained the process. When a client calls in, it might be a family member, friend or the future care recipient, they conduct a phone interview to identify some basic information and then follow up with a visit to the home to set the process in motion. Through conversation and visual examination of the home and its surroundings, the Right at Home intake team assesses the needs with the client. Together they put together a care plan that suits the care recipients schedule and wishes taking into consideration any limitations they may have or issues in the home. For example, if the client has trouble getting up and down in a chair, they may suggest grab bars and a higher toilet to assist. This is just one of the many ways Right at Home looks at the entire situation to provide the best care rather than simply taking on another client. The care and concern is evident from the moment the process begins.
Right at Home is flexible in terms on what they are able to offer a client. They can be available for as little as four hours to as much as 24/7 care. Whether the goal is to clean the home, wash dishes, remind the client to take medications, drive them to a doctor's appointment, cook meals or simply visit, Right at Home can meet those requirements.
Mr. Giampa relayed a few stories that spoke to their flexibility and dedication. On a recent 4th of July, Lou was readying his home for a barbeque with family and friends when he received a call from a client that had been with them some time. She was living in a nursing facility and wanted to get away so badly. Without hesitation, he contacted one of his caregivers, picked her up, drove to the nursing facility to pick up the client and then drove everyone to the client's home. While the caregiver brightened up the house, cleaned and helped the client with small tasks, Lou went to the grocery store to stock the refrigerator before returning to his own barbecue.
When quick response was needed, Right at Home was there to help as well. The husband of a client with dementia took a fall and was sent to the hospital leaving "mom" home alone. Right at Home was there with a caregiver shortly after receiving the call for help so that his wife was properly cared for while he was in the hospital.
What was very obvious from speaking to Mr. Giampa is his love and care for his clients and how he conveys that to his caregivers through his own actions. As a volunteer for other organizations and a helping hand at Right at Home, he shows his caregivers what he expects from them and how to treat those who need a little help from time to time.
Recently, Right at Home partnered with LifeFone to offer medical alert systems to their clients. Several times a caregiver has arrived at a client's home to learn that she had fallen and laid there for a number of hours. Equipped with a medical alert system, clients may feel more secure knowing that they have access to emergency care should something happen when their primary caregiver is away.