Four Steps To Prepare For Retirement
At LifeFone, we recognize that a happy and fulfilling retirement means different things to different people. It could be transitioning from a full-time career into meaningful part-time work. Or, perhaps you are looking forward to spending more time with your family, starting a garden, volunteering, or making regular trips to the golf course. Once you determine what will give you peace of mind in retirement, it's important to know how you will get there financially. We want to help you get started with four steps to prepare for retirement.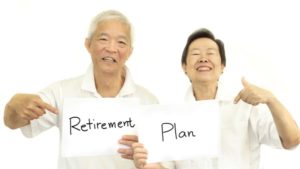 Define your retirement
Here's where you make that list and write down your objectives. Listing the most important goals first. For now, don't focus on the budget. Focus on the ideas, being as specific as possible. For example, instead of 'travel' list 'trips to the mountains' or 'going on Safari'. Instead of 'stay involved in my community' write down 'volunteering for an after-school program once a week'
Try to limit the list to your top five goals. Make a scrapbook or start a journal depicting 'how' you envision your retirement. The most important part is to be practical: Your list should rule out any unnecessary expenses. Make sure your financial needs are met as you brainstorm. The more descriptive you can be, the more tangible your retirement will be. If your goals are still vague, that's OK, too. You can simply start by outlining how you see your retirement.
Take stock of your assets
You know how much you bring home each month, how much you have in the bank, and how much you have in your retirement account. But, what about other non-traditional assets that could help fund your retirement? Maybe you've collected antiques, or you restore cars. Perhaps you are an accomplished musician.
Many hobbies and skills can be turned into real income in your retirement years – perhaps you could trade antiques or teach music lessons. Take some time and list off of your hobbies and skills. Don't worry if your list is small, but, do list your passions and untraditional assets. After you have your list, think about how you can morph those skills and hobbies into money-making endeavors.
Evaluate your health – now
To get the most out of your retirement – and life in general – you want to be as healthy as possible. Granted, most of us don't look forward to the doctor's office, yet a little preventative medical attention can go a long way.
Schedule your check ups and preventative exams now from your annual physical to a visit to the dentist. At each appointment, work with your provider on a long-term plan to improve your health or maintain it. Make commitments to yourself to continue, or begin, a healthier lifestyle. Eating healthy, exercising regularly and getting enough sleep will help you live a longer and happier life. Don't look at being healthy as a chore. See it as a fun, exciting way to enjoy life. Walking, hiking, bike riding are all fun ways to exercise, and eating healthy can be an excursion into new and different cuisines.
Create a retirement budget
How much income do you have? How much will it cost to reach the goals you identified? How much debt do you have? Track everything for the next three to six months. Groceries, fuel, social activities, utilities, and every other little thing on which you spend your money. You may find areas that you can eliminate, like your cable bill or reducing the amount of times you choose to eat out. If you have a garden, begin planting your own vegetables to enjoy the fruits of your labor.
If you have some debt that needs to be paid off, begin by paying a 'little extra' on the smallest ones first, and get rid of them. Cutting your debt now will give you less worry in retirement.
Whether you choose to travel in your retirement or stay close to home, these four steps to prepare for retirement can help you break it all down into manageable plans.
We want you to enjoy your retirement safely. With a medical alert device from LifeFone, you can be safe at home or on your adventures knowing with one touch of a button help is on it's way.