Knowledge and awareness are key to preventing fires. Your parents and loved ones continue to live on their own longer, are more self-sufficient, and can largely be in charge of their own lifestyles. Of course, that doesn't stop you from being concerned about their safety, and making sure their home is as protected as it can be from fires. At LifeFone, safety is our priority.
No one expects a fire to break out, but they do happen. Urging your parents or loved ones to take a proactive approach to home fire safety is one step in helping you to be less concerned about their well-being.
Make sure that there are smoke detectors located properly in their home or apartment. Close to the kitchen, in the hallway by their bedroom, and any other locations that you feel is necessary. Setting up regular times to test the batteries is also important. It is recommended that batteries are tested twice a year.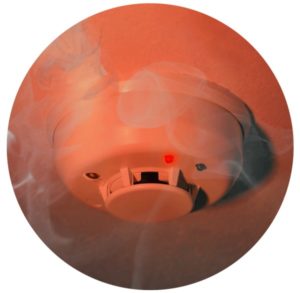 With Hanukkah and Christmas right around the corner, it seems that extension cords are everywhere. Holiday lighting is festive and fun, but make sure that your loved ones are taking the proper precautions. The next time you are at their home, look around. If you see one that could possibly have too many things plugged in, buy another one. If an extension cord is exposed, it could cause them to trip and fall.
Cooking is the leading cause of home fires. Encourage your parents to not cook if they are sleepy or have taken any medications that can cause drowsiness. Most kitchens are now equipped with GFCI (ground fault circuit interrupters) protected outlets. Double check your loved ones' kitchen to make sure that they have any small appliances plugged into this type of grounded outlet. If they don't have them installed, see that their current outlets are changed over.
If their home is older, consider talking to your parents about having the circuit breakers replaced with AFCI (arc fault circuit interrupters) which provide enhanced electrical fire protection by detecting dangerous arcing conditions.
Encourage them to have their heating source inspected prior to colder weather setting in. If their system has a problem, late summer or early fall is the best time to find out and to get any necessary repairs made. It's also a good time to make sure any intake and output vents are clean and clear of debris or dust.
If they have a fireplace or a wood stove, the chimney also needs to be inspected annually by a certified chimney specialist. Build-up from the wood in the chimney not only prevents proper air flow, but can also ignite from sparks hitting it. Make sure that they have a fireplace screen in place, and that it's never left unattended.
Make sure that they have a clear escape plan in place should a fire break out.
Encouraging your parents or loved ones to follow these tips will help keep you at ease as they live their independent lifestyle. Also, to further protect them, be sure your parents or loved ones have a medical alert system in their home can get them the emergency help they need in case a fire does break out.