May is Older Americans Month
Did you know that May is Older Americans Month? LifeFone cares about the health of older Americans and thought we would share some thoughts with you.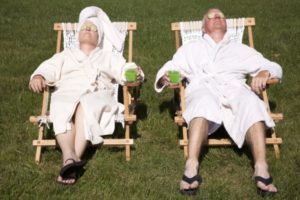 When Older Americans Month was established in 1963, only 17 million living Americans had reached their 65th birthday. About a third of older Americans lived in poverty and there were few programs to meet their needs. Interest in older Americans and their concerns was growing. A meeting in April 1963 between President John F. Kennedy and members of the National Council of Senior Citizens led to designating May as "Senior Citizens Month," the prelude to "Older Americans Month."
Historically, Older Americans Month has been a time to acknowledge the contributions of past and current older persons to our country, in particular those who defended our country, which nicely lines up with Memorial Day.
Every President since Kennedy has issued a formal proclamation during or before the month of May asking that the entire nation pay tribute in some way to older persons in their communities. Older Americans Month is celebrated across the country through ceremonies, events, fairs, and other such activities.
2018 will mark the 25th anniversary of the program, and more than 120,000 older adults will participate at local events at more than 1,200 locations across the country on the same day.
Every May, the Administration on Aging (AOA), leads our nation's observation of Older American's Month. The theme for 2018 is 'Engage at Every Age'; emphasizing that you are never too old (or too young) to participate in activities that will enrich your mental, physical, and emotional well-being. It also celebrates the many ways in which older adults make a difference in and around our communities.
If you are considered an older American, we are thankful you are a part of your community. Here are several ways to celebrate this year's theme, Engage at Every Age:
Interview community members who exemplify what it means to Engage at Every Age. Try for a mix of individuals, such as older public servants, elder rights advocates, back-to-schoolers, or people trying new careers. Everyone has a story. Interviews can be shared as written pieces or videos.
Arrange for older adults to share or read stories. Call a community or senior center about a joint effort—perhaps they'd like older adults to share their skills or experience in a workshop. Alternatively, see if a local school would like to host a "Senior Day" where older adults speak to students. Or, contact libraries about older adults reading to young children.
Arrange for local school students to interview residents of a retirement community, assisted living community, or nursing home, and write a short biography. Plan a program for the residents and other members of the community at which the students read aloud their stories. Invite your local newspaper, local blogger, or radio station to attend.
Ask your social media followers to share their wisdom, tips, and stories online—either using a unique hashtag or by posting to a page or forum you manage. If you take this approach, be sure to provide guidance, such as length or word limits, what you'd most like to hear, and a contact person for questions.
Invite community members to a special event celebrating Older Americans Month. This could be a sit-down meal, a networking gathering, or a special program like storytelling. Invite a leader or similar keynote speaker from your community to give remarks. If you plan activities that will result in proceeds (e.g., raffle), think about donating the funds to a local charity or program that supports older adults.
Plan a day or half-day gathering for older adults who want to give back. There are numerous options for activities, from picking up litter or gardening in public areas to collecting clothing and food donations for those in need.
Coordinate a resource fair, class, workshop, or lecture on one of the many topics covered by this year's theme. You could center the gathering on maintaining health and independence with a class on balance and strength or consider teaching a group or community members about finding local resources, engaging through technology, or starting a new career or hobby.