National Senior Health & Fitness Day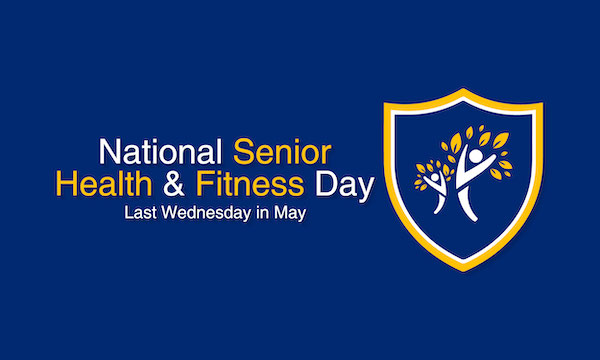 If there is one thing that every person should do, regardless of how old they are, it is to exercise. Men, women, youngsters, and the elderly should all engage in physical activity to stay fit and steer clear of diseases. However, exercising regularly and eating a well-balanced diet becomes much more important as one gets older. Regular physical activity provides older individuals with a more robust immune system, improved mental well-being, healthy cognitive function, and fine-tuned motor skills.
Now is your time to kickstart a healthier lifestyle!
If you live a sedentary lifestyle and do not eat a balanced diet, we have some good news for you. National Senior Health and Fitness Day, is just around the corner, and you can join over a million other enthusiastic older adults in embarking on a journey toward healthy aging.
So, what is National Senior Health and Fitness Day anyway?
National Senior Health and Fitness Day is an annual wellness event that promotes the importance of daily exercise for the country's older population. This event further highlights the efforts made by local organizations to improve the health of the elderly. Now entering its 28th year, the event is organized by the Mature Market Resource Center (MMRC), a 32-year-old national clearinghouse for professionals working in older adult markets. MMRC is in charge of the event's registrations, marketing, and merchandise distribution.
On this day, several local groups host health events for older people. Many programs about food culture have also been organized in the past. These programs encourage the elderly to eat a healthy, well-balanced diet. Adults may also participate in training programs that teach them the value of specific exercises that should be included in every older adult's workout regimen.
What's different this year?
Every year on the last Wednesday of May, nearly 100,000 seniors take part in over a thousand locations across the country. Many groups sign up to organize local wellness programs for older adults. Older people spend their days engaging in fun activities that help them stay fit and active.
The National Senior Health and Fitness Day will be observed twice this year. Because of the ongoing global pandemic, it has been decided that the two events will take place in the spring (Wednesday, May 26, 2021) and the fall (on Wednesday, October 27, 2021).
How can you observe this day?
You may celebrate this day by attending senior-related health and wellness events at health clubs or senior centers. There are numerous activities to help you stay on track during the day, ranging from exercise demonstrations and fitness seminars to health information workshops and fitness walks. Whether low-impact exercise or a walking event, all activities are non-competitive. Even if you cannot attend the sponsored event, you can still engage in some low-impact exercises at home.
National Senior Health and Fitness Day is the perfect time to make a positive shift in your current, sedentary lifestyle. This day will teach you the basics of maintaining a healthy lifestyle and how to age in the best way possible!