It would seem like women topple the scales when it comes to the role of a caregiver. However, the fact is 40%, or 2 out of 5, of the today's caregivers are men. At LifeFone, we wanted to focus on the unique role of men as caregivers.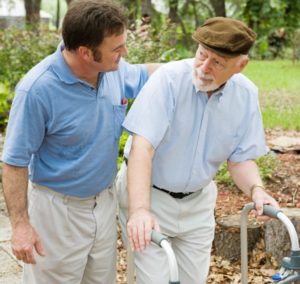 Part of the reason behind this shift is the growing number of people suffering from dementia and Alzheimer's. Among people over 65, both diseases are more prevalent in women than in men.
Most men have grown up in households in which females have been perceived as the primary family nurturers. Yet, now, and often because of necessity, more and more men are tackling the job of helping an ill loved one with every day tasks.
As more men transfer into this role, it is important to consider the unique roles a man plays, and what tools and resources male caregivers need to succeed.
For many men who are caregivers, the role remains hidden. Partly because they don't feel comfortable asking for help, and often times don't know where to turn. The challenges and rewards of care-giving are the same for both men and women.
Here are eight tips on how to deal with being the caregiver:
Learn how to communicate. It's important to determine how best to respond to your loved one, choosing proper wording and phrases to communicate with them.
Understand that when it comes to caring for your mom, wife, aunt, or grandmother, as a woman they still believe they can do it, and don't want you to. Be gentle with her. Allow her to do what she can, and be gentle when she can't.
Work is a big part of any man's life. If possible, move the office home. If that isn't possible, speak to the human resources department. Many companies have plans in place for their employees who must step in as the primary caregiver.
Be sensitive to her surroundings. Try to anticipate their needs. If you are hot, chances are, they are also.
One of the biggest challenges is not knowing what to do as situations arise. That is the same whether you are a man or a woman. Be willing to reach out and look and ask for help.
It's important to understand that you may reach a time where you have to do it all. Cooking, bathing, and dressing your loved one.
Take the time to simply sit with them. Most often men are 'doers' and something always has to be done. One of those things is simply sitting. Look through pictures, play cards, read, and simply enjoy each other's company.
For those times you do need to leave the home, consider a medical alert system so your loved one is protected in the event of any emergency.
The challenges are real, yet the rewards are great. The smile on their faces and the small words of thanks make what you are doing worthwhile.
Of people age 65 or older, 20 percent will live until age 90. But 1 in 2 Americans will develop dementia after age 85, to name just one chronic illness. The statistics make it clear that more boomers, men and women, will inevitably step into a caregiving role, whether for parents or a spouse. Men who haven't thought of themselves as caregivers, should consider the fact that they probably will be.