Determining If A Medical Alert System Is The Right Choice
Let's first explain what a medical alert system is. It's simply a device that is your personal emergency response system 24/7. A medical alert system allows you to stay safe and maintain your independence. LifeFone offers both at home system and on the go medical alert systems to keep you safe no matter where you go.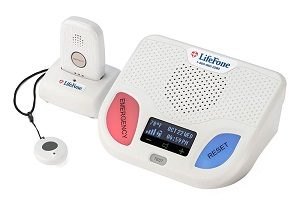 With personalized responders, getting help has never been easier. We also have an app for smart phones that will allow you or your loved one have access to emergency response services at the touch of a button.
How to determine if a medical alert system is the right choice for you.
You live alone. Age doesn't disqualify you from the possibility of owning a Medical Alert System. Anyone, at any age, can fall and be left without help. However, for older adults, age 65 and up, more than 1/3 of that population falls every year. A fall can occur for almost any reason, tripping on a rug, missing a step, or carrying an item that skews your line of sight. Having a system with a fall detection monitor built in will automatically send an alarm to emergency responders.
Help is just a push of a button away. Your medical alert bracelet or necklace will work in your home, in your yard, or while on the go. Each system has a unique range and long battery life. With LifeFone's At-Home and on the Go Emergency Response GPS Service works 24/7 both in your home and away.
You'll give loved ones and caregivers peace of mind. Your desire to be independent can often weigh heavy on a person's mind. Knowing that emergency assistance is readily available can help keep the worry at bay.
You can take it with you. You'll always be protected because you can take the system with you if you move or maintain a winter residence.
Whether you are 35 or 75, at LifeFone, we have many different options available to suit your individual needs.
Save