May Is "National Nurses Month" (Here's Why It Matters!)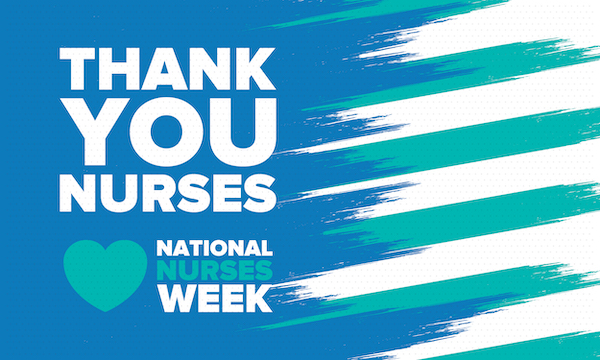 "National Nurses Week" has long been celebrated in the United States every year from May 6th to May 12th. But as with many things since the onset of COVID-19, the event has been modified in 2021. This year, many organizations are commemorating all of May as "National Nurses Month" to properly highlight the contributions of nurses across the country.
Most people recognize the valuable and selfless work of nurses, but they may not know how nursing jobs have changed over the years. Here's a look at nursing past, present, and future that further shows why these healthcare professionals are so critical to society's well-being!
Nursing Fundamentals Remain the Same
Certain attributes of great nurses never change. They are compassionate, hardworking, passionate, and knowledgeable. Many people realize nurses possess the first three qualities, but the extent of their education is often under-appreciated. While medical doctors achieve the highest education levels, their nurse counterparts are also experts.
Nurses assist doctors with many critical duties, such as the monitoring of vital signs, which helps assess disease status and provides the necessary information for treatment plans. A doctor may write the prescription for blood pressure medication, but a nurse is most likely providing the data that influences the doctor's decision to do so. Nurses also perform highly-skilled medical functions, such as wound care, infusion treatments, G-tube care, trach care, and injections.
Nurses are obviously very crucial components of America's healthcare system. And for this reason, many have no desire to become doctors. Many intelligent, hardworking RNs and LPNs will continue their fulfilling work for the duration of their careers.
Nursing Today is More Complicated Than Ever Before
While nursing has always been a highly-skilled profession, it's getting even more technical with each passing day. RNs and LPNs are required to take continuing education courses. And as with most things in life, the technological applications are ever changing.
Nurses today must be competent in the use of "electronic health records" (EHR). These software solutions are now used universally in lieu of old-fashioned patient charts. Although technology companies work to simplify their EHR applications, training may still be necessary. And it's not as if nurses didn't have full schedules already!
In addition to new technologies, nurses must always stay current on new trends and guidelines relating to care, best practices, and insurance/Medicare reimbursement. They also serve as links between various care teams and doctors and are critical to collaboration between these groups. Simply put, today's healthcare landscape is quite complicated, and nurses are on the frontline.
Nursing Continues to Evolve
The evolution in nursing is never ending, and the industry will continue to change for the foreseeable future. Technology will improve, systems will further integrate, and Medicare and insurance reimbursement will shift more toward models that pay based on "outcomes" rather than "services." There will also be more emphasis on "social determinants of health" and how to improve healthcare delivery to vulnerable populations.
Specifically, nurses will be expected to gather accurate patient health data, input the information into cloud-based software, and then analyze it to address the unique needs of various patient populations. The latter expectation is necessary to resolve equity deficiencies that will be more front-and-center in the days to come. While nurses are not clinicians and don't diagnose disease, they are likely to bear more and more responsibility in a healthcare climate facing limited resources.
Helpful Technology for Nurses & Patients
As discussed, much of the evolution within nursing is due to new technology implementation. But some tools are particularly disrupting (and improving) the industry. These focus primarily on the collection and integration of data, and the delivery of remote or home-based medical resources. Nurses who embrace these tools will remain successful despite the changes.
EHR systems are constantly expanding in application and are integrating various other technologies across the healthcare ecosystem. Nurses who master state-of-the-art EHR tools can save time while improving quality of care. EHR integration ensures patient data isn't lost when transitioning from nurse to nurse, doctor to doctor, or team to team. And nurses can even leverage a robust EHR system for easy healthcare referrals and telehealth data integration.
Telehealth is also becoming a helpful technology for nurses and especially for those working in ambulatory settings. Nurses who conduct regular home visits can instead gain efficiency by gathering vital signs and health data digitally through various devices and "wearables." And they can even lead patient assessments through HIPAA-compliant video technology, saving "road time" and improving patient compliance.
Nurses should also consider leveraging the latest personal emergency response solutions (PERS), such as LifeFone. This technology has come a long way and now does far more than simply alert EMS to patient falls. LifeFone, for example, has medication-reminder functionality, and serves as a real-time communication platform for family caregivers via smartphone app. LifeFone also monitors for home hazards, such as fires and carbon monoxide. Best of all, a LifeFone PERS system is affordable and available to anyone in need of a virtual safety net!
Final Thoughts
Most Americans have benefitted from a nurse's selfless work on more than one occasion. And folks who are more vulnerable or older likely interact with nurses regularly. But these cherished healthcare heroes often don't get their due recognition. Fortunately, "Nurses Week," is now "Nurses Month" for 2021. Americans should take time to thank the nurse in their life, and nurses should know technology exists to make their work easier and more productive.
If you have a patient, friend, or family member who can benefit from affordable and comprehensive emergency response services, be sure to call LifeFone today for a free assessment!