How To Get The Most from Your Medical Alert Service
You've made the final decision on a medical alert system and though it seems like a once-and-done decision, there are many ways you can ensure you are getting the most out of your service.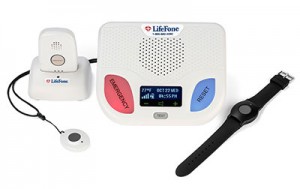 LifeFone offers these pointers on how to maximize your experience:
One of the most important things subscribers are encouraged to do once they install the system is to test out the system by pushing the button as they move about the home. The goal is to ensure that the subscriber feels comfortable and is aware of the range of the system as well as how loud it is from various locations in the home. This simple step helps subscribers gain confidence in the medical alert system from the moment they get it.
We also encourage subscribers to push the button on a monthly basis. While it isn't a necessity, we find that our subscribers are a little more confident when they test it for themselves. Furthermore, we want customers to become comfortable using the system so that when an emergency occurs, they are confident and will push the button without hesitation.
If you didn't purchase accessories when you invested in your home medical equipment, it's not too late. A wall-mounted button is an option. Many LifeFone subscribers wear a pendant or bracelet – that can be worn at all times – but in the event of an emergency, a wall mounted button might make sense.
A lockbox on the home that contains a house key can be very valuable in an emergency. If you need to activate your LifeFone device and emergency medical technicians are called, they will need access to your home and if you can't get to the door, they may have no choice but to break the door. This can be avoided by adding a lockbox to the door and supplying LifeFone with the code so it can be passed along to the EMTs to allow them easy access to your home.
Service after the sale. Once you've invested in your LifeFone medical alert system, we urge you or a family member to connect with us on Facebook, Twitter or Google+. We share tips, ideas and interesting stories. Don't forget to visit our website frequently as we are continually updating it with information on new features, products and blog posts.
If you've used LifeFone's Medical Alert System and know of someone who could benefit from our service, refer them to us and make certain they mention your name when they subscribe. If they do, and if they subscribe, you will receive a free month of service!
Remember, that LifeFone's Customer Service is available 24/7/365 (even during a power outage you are protected!) to help you with any questions or assistance you have.