Host A Family Meeting To Make Elder Care Decisions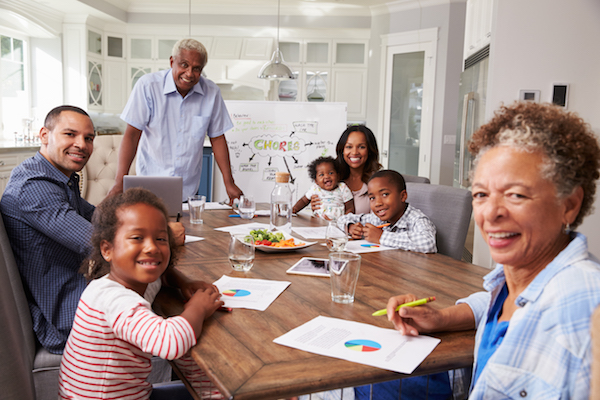 Making tough decisions on the health and welfare of your aging parents is difficult. You may want to gather all family members who will be impacted by the decision and have a family meeting. While it's true that geography may make the logistics of this difficult, consider gathering family that lives local and hosting a web cam chat with those that are not geographically local.
Having a network of concerned family members might make the decision-making process easier. If you find that your aging parents are facing specific health issues it is best to share information and share thoughts in a group setting. In some cases, there may be a family member or two that is bearing the burden of caring for the aging relative and they may simply need help in the care-giving tasks. Caring for an aging relative is never an easy task and you'll find that holding a caregiver/family meeting can improve the situation.
Invite family members that will be directly impacted by decisions made on behalf of your aging relatives whether monetarily or through increased care-giving roles. While you may think it's easier and likely more comfortable to exclude the aging relative from the conversation, you should gather their input and make them feel part of the solution. You may be surprised to find out that what you think is important and of concern is vastly different from their perspective!
The professional caregiver or another individual who interacts with the aging relatives on a daily basis should also be present for the meeting. If your relatives are heavily involved in their church or other organization there may be a friend or two that know your loved one well and should be included in the meeting. Ensuring you have all the appropriate people at the meeting can help make the decision-making process more effective.
What's the meeting about?
Now that you've planned a meeting, what will you talk about? You should first appoint one family member as the meeting organizer and another to take notes. Start by asking your parents what issues they feel they are facing. For example:
Are they scared to live alone?
Are they afraid of falling or worried about failing health issues and what that might mean to them?
Are they worried that their home is no longer suited to their needs?
Are they worried about tripping or falling in their home or yard?
Are they worried about their medical conditions?
These are just a few of the concerns your loved one might have.
Once you've listened to your aging relative's concerns you can address them one by one. For example:
Consider outside agencies to provide assistance such as a Meals-on-Wheels, a housekeeper or an in-home medical professional.
Gather the family to make the home safer by removing trip and fall obstacles?
Evaluate the cost and benefits of renovating the bathroom, shower and kitchen to make it more senior-friendly?
Install motion sensors or lights that operate dusk to dawn to light the exterior of the home.
Add nightlights the home to illuminate the interior of the home.
Research a security system to be installed in the home to make them feel safer?
Equip your love one with a medical alert system so they have 24/7 access to emergency care.
Following the meeting make certain that the action steps that were discussed are actually implemented. Keep in touch with your loved ones via telephone or face to face visits to check on their health and well-being. Preparation and prevention are two of the most vital steps in alleviating fears and providing safety for your loved ones.