In September we focused on falling, how to prevent them, how to equip a home to cut down the risk of falling, and how to help your loved one bounce back after a fall. September was also a month to focus on fruits and vegetables, and how healthy eating matters and is important to your overall health.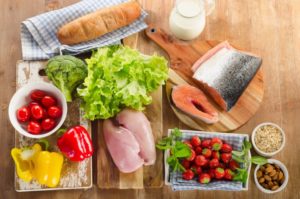 Just like you should be cautious in and around the home in relationship to falls all year long, you should also focus on eating enough fruits and vegetables all year long.
As we age, the benefits of healthy eating become even more important to overall health and well-being. A healthy diet leads to resistance to illness, faster recuperation from illness, increased mental awareness, and management of chronic health issues such as diabetes or heart disease. Eating healthy can also be a way to maintain a positive outlook on life. It doesn't mean you have to sacrifice foods you like, or go on a diet. Eating in moderation and eating well balanced meals is more about using fresh, non-processed foods and eating a variety of foods.
Adding fruits and vegetables has many health benefits. When you eat a healthy, balanced diet with plenty of fruits and vegetables it helps to lower the risk of:
Type 2 diabetes
Heart disease
Some forms of cancer
Obesity
High blood pressure
The other advantages of adding more fruits and vegetables into your diet are:
A balanced diet with key nutrients is essential to keep your brain functioning at its peak. Bright fruits, fish, nuts, and leafy vegetables can help improve focus and keep Alzheimer's at bay.
Living longer and stronger are also benefits of good nutrition. Keeping muscles, bones and organs healthy can be accomplished by eating a vitamin rich diet. Concentrating on foods with fewer calories and high fiber is a good way to keep weight in line.
Meals that offer a variety of wholesome, fresh ingredients will lead to increased energy levels which can lead to a more active lifestyle.
Often the question is, what is the right amount of fruits and vegetables to eat on a daily basis? The USDA's dietary guidelines recommend that adults eat anywhere from 5 to 13 serves per day, depending on your age, gender, physical activity and over all health. The question is, what is a serving?
A serving is probably not what you think it is. For instance, a serving is:
1 small apple
½ cup of raw fruits or vegetables
1 large orange
1 cup leafy greens
1 banana
1 small bell pepper is only a ½ a serving
½ cup berries or grapes
½ cup cooked squash
3 cups of raw, or ½ cup cooked spinach
There are many ways to get the right amount of fruits and vegetables into your diet. You can make a smoothie out of them by adding a combination of fruits and spinach, or another leafy, green vegetable of your choosing.
Changing the way you cook your vegetables can add variety to how you eat them. Roasting sweet potatoes, carrots, beets, green beans, or whatever ones are your favorite can change how well you like them.
At LifeFone, we believe you and your loved ones should be as healthy and active as you can be. By adding fruits and vegetables to your diet can help you achieve those goals.