Groundhog Day – Breaking The Boredom of Winter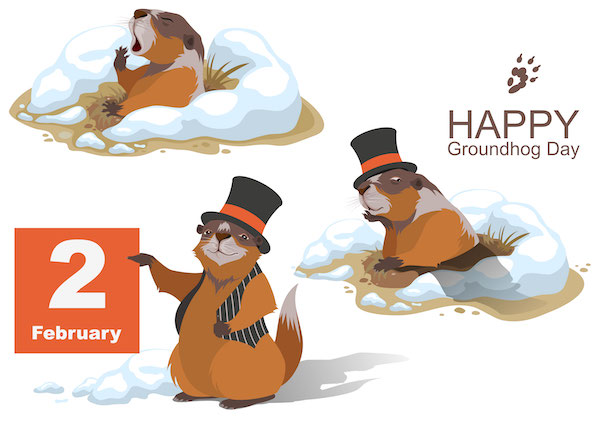 If Winter has you trapped inside, you may find yourself feeling a bit like Bill Murray in the movie Groundhog Day. In this movie, Murray played a Pittsburgh weatherman who found himself living the same day over and over again.
We all know that the winter months can be chilly and sometimes life becomes mundane while couped up at home. When the cold sets in, many times we become less active leading to a more sedentary lifestyle which can become boring. Finding interesting ways to keep yourself entertained isn't impossible, it just takes some creativity and drive.
While not everyone in the United States has to deal with those frigid cold days of winter, for those "up north", breaking the boredom of the season can sometimes seem daunting. Other than flying south to escape those bone chilling days, there are other options to help relieve some of the dullness we all experience when unable to get outside. While many cling to a blanket while cozying up next to the fireplace, there are other options to keep your mind, body and soul active during those months. For a little inspiration, how about considering some of these ideas while at home during those cold winter days.
Re-decorate
What better time to re-decorate your home than when you're stuck inside on a cold winter day. If boredom is creeping in, think about adding some appeal to your space by starting an at-home project. Furnishings, draperies or maybe a fresh coat of paint can help liven up your living space while keeping busy without dealing with the harsh weather outdoors.
Trendy fashions are always changing so doing a little research to help inspire your creative thinking can keep you active while also improving your in-home quality of life. Short of ideas? Do some research online or via social media to help inspire your designs and creativity. Starting a new decorating project can without a doubt keep your boredom to a minimum while also helping to improve your home.
Get Fit
Exercise is a wonderful way to not only stay healthy while increasing your balance and strength but also to pass the time while at home during those chilly days. Staying active also helps boost your wellbeing providing both physical and mental benefits. You may think that working out only happens at the gym but there are plenty of exercises that can be done at home including Pilates and yoga. Better yet, if you happen to have an exercise bike or treadmill, indoor cardio can keep you in shape while waiting for bathing suit season! With the available content online and through streaming services, you will never be short of workout routines.
Spring (ehhh… Winter) Cleaning
No one said "spring cleaning" had to be done in the spring. While stuck at home fighting to stay out of the cold, think about decluttering your living space. Deep cleaning your home can create a sense of fulfillment while staying busy and improving your living situation. Closets and drawers that have become filled to the brim with clothing may be better suited at a home elsewhere. Think about donating used linens and clothing or focus on windows and showers to stay busy while providing a more usable (and clean) living space.
Wi-Fi Is Your Friend
Another way to avoid boredom while stuck at home is to make use of the internet and the array of streaming services available. Blogging and social media can keep you connected with friends and family while services such as Netflix and Hulu can turn you into a movie buff! Been meaning to reconnect with someone? Reach out on Facebook. Want to re-watch one of your favorite shows from beginning to end? Jump on Netflix and start binging! While too much screen time can be physically draining on your eyes, keep it to a minimum and enjoy your time inside.
Be Creative
Did you ever want to start a new creative project but never seemed to have the time? Well, now might be the chance you've been looking for. Creating something new can help expand your mind, release tension and anxiety and lower your heart rate. It also leaves you with an actual tangible product that you can feel good about after completion. If you need ideas, remember, the internet is a great resource for all things creative!
Start Cooking
If you're feeling bored, what better relief than cooking. Making new and unique dishes in the comfort of your home can be stimulating not to mention being nutritional and tasty. Cookbooks and recipe sites such as All Recipes will provide you with an array of inspiring dishes to feed the entire family. Trying something new will keep your mind engaged and active.
Host A Game Night or Poker Tournament
Although social media can help keep you up-to-date on friends and family, you may actually miss physically seeing them. By hosting a game night or inviting others to play cards you'll get to interact with the important people in your life. Make an appetizer, set out the board games, offer a glass of wine and enjoy quality time with the people that mean the most to you. Laughing and participating in activities with others helps to relieve stress and can help everyone enjoy a more positive mental outlook. Although the current pandemic may make this a little more challenging, there are other options available such as setting up an online quiz and inviting others to take part in the challenge virtually.
While everyone deals with the seasonal changes that come with winter differently, staying positive and finding activities to keep your mind and body stimulated is important. Remember to find things that interest you, stay in contact with those close to you and stay active. These tips may be just what the doctor ordered to keep every day from feeling like Groundhog Day.