Five Ways Good Friends Are Good For You
Having good friends can have a major impact on your health and well-being. At LifeFone, we believe friendships have a positive impact on your overall well-being. We have five ways that good friends are good for you and your health. Friends can help you celebrate good times and provide support during bad times. Friends prevent loneliness and give you a chance to offer needed companionship, too.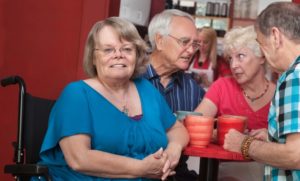 A recent study followed nearly 1,500 older people for 10 years. It found that those who had a large network of friends, 78% were still living healthy lives after the 10-year study was concluded.
Friends can also:
1) Increase your sense of belonging and purpose – When you have a friend to do things with; you are more likely to actually go out and 'do' something. It could be something as simple as running errands together; or taking off for a weekend getaway.
2) Improve your self-confidence and self-worth – Having a friend that encourages you along the way is priceless. Creating accountability can improve your self-confidence by encouraging a healthier lifestyle with exercise and/or eating habits.
3) Help keep your mind sharp – Maybe you both like puzzles. Enjoying doing puzzles together does help keep the mind active. As does conversation. Conversations keep you thinking. It could be about the daily business of life; politics; family; church, you name it. Having someone to engage with in conversation certainly helps keep you on your toes.
4) Help you cope with traumas – We all face trauma. Whether it's a serious illness or a job loss; trauma comes into our lives. Having that friend who you can call at any time is an invaluable gift. A true friend is known when there is difficulty.
5) Boost your happiness and reduce stress – Having a small circle of friends on whom you can depend is sure to produce happiness within you. People were born to crave relationships, and relationships breed happiness. Feeling and being happy also reduce stress, as we know that these are folks on whom we can rely.
Friends also play a significant role in promoting your overall health. Adults with strong social support have a reduced risk of many significant health problems, including depression, high blood pressure and an unhealthy body mass index (BMI). Studies have even found that older adults with a rich social life are likely to live longer than their peers with fewer connections.
Developing and maintaining good friendships takes effort. The enjoyment and comfort friendship can provide, however, makes the investment worthwhile.