Fun Facts About July Fourth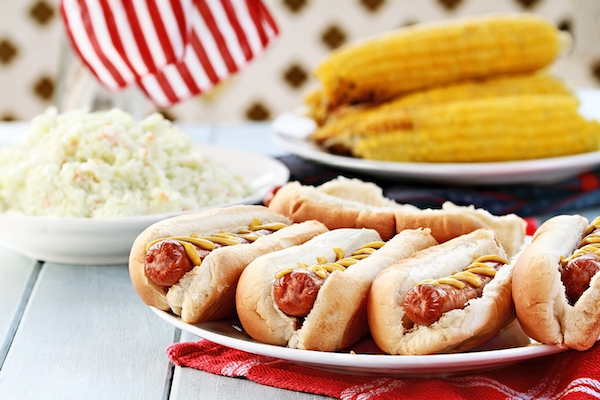 July 4th, also known as Independence Day is filled with family, fun and fireworks. Barbequing in the back yard while swimming or sitting around a bonfire have become summer traditions while celebrating our nations freedom from Great Britain. Although the fireworks, hamburgers and hotdogs fresh off the grill make for a wonderful holiday, there are certain details about July Fourth that many may not know. Here are some interesting facts to share with friends and family while enjoying one of our favorite holidays this year.
The Declaration of Independence Signing
Many are under the assumption that the United States declared their independence on July 4th. The truth of the matter is the vote actually took place two days before and the declaration was published in papers on the 4th. When the Continental Congress adopted the Declaration of Independence on July 4, 1776 it wasn't actually signed by most until the delegates began on August 2. The only two men who actually signed on July 4th was Charles Thompson and John Hancock.
Hotdog & Food Consumption
According to AgHires, "Every year, 150,000,000 hot dogs are consumed in the United States on the 4th of July. That's enough to stretch from Washington D.C. to Los Angeles five times – and still have a few hot dogs left over. 33 percent of all hot dogs produced in the United States come from Iowa. 700 million pounds of chicken are purchased in the week leading up to July 4th while 190 million pounds of red meat/pork are purchased."
Average Age of the 56 Signers
In total, 56 people signed the Declaration of Independence with the average age of those resting at 45 years old. The youngest at 26 years of age was Thomas Lynch Jr. and Edward Rutledge with the oldest being Benjamin Franklin at 70.
Fireworks and Accidents
As reported by Fortune, and clarified by the American Pyrotechnics Association, American's spend more than $1 billion on fireworks each year with close to 13,000 firework related emergencies across the country taking place between June and July. Nearly 70% of those injuries occurring in the male population meaning…. men like their fireworks!
The Tradition of Fireworks
John Adams wrote in a letter to his wife, Abigail, that he wanted Independence Day to be celebrated with pomp, parade, shows, and "Illuminations." Fireworks became part of the celebration as early as 1777 and has continued ever since.
Finally… A Holiday
Astonishingly, July 4th didn't become a national holiday until 1870, almost 100 years after the nation was founded. Lucky for us, we now celebrate our independence with all the excitement that John Adams had hoped for!
As we celebrate the 4th of July, lets also remember how much our senior population relishes their independence. While you're spending time with your loved ones (and possibly setting off fireworks in your backyard) notice how well your parents and older loved ones are doing. It may be time to think more seriously about their ability to remain in their home. AgingInPlace.org ranks LifeFone as the Best Medical Alert system for the widest range of emergencies. This may be a key to ensuring your loved ones the freedom and independence to live on their own while provide peace of mind for the caregivers that spend countless hours caring for them day in and day out.
Enjoy your family, celebrate our Independence and stay safe this 4th of July!