The 2030's are expected to be an important decade for the U.S. population. In 2030, all baby boomers will be older than 65 meaning that 1 in every 5 residents will be at retirement age. "The aging of baby boomers means that within just a couple decades, older people are projected to outnumber children for the first time in U.S. history," said Jonathan Vespa, a demographer with the U.S. Census Bureau. "By 2035, there will be 78.0 million people 65 years and older compared to 76.7 million (previously 76.4 million) under the age of 18." At LifeFone, we believe it's important for you to recognize the impact that an aging nation may have on you, and your loved ones.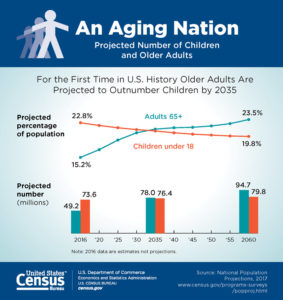 This upturn isn't unique to the United States. Countries like Japan, Canada, and twenty-two European countries are seeing an upturn in their 'aging nation' also. According to John Haaga, Ph.D., acting director of the National Institute on Aging, many countries in Europe and Asia are further along in the process, or moving more rapidly, than we are in the United States. Since population aging affects so many aspects of public life — acute and long-term health care needs, pensions, work and retirement; transportation; housing — there is a lot of potential for learning from each other's experience."
People are living longer than before, but that doesn't mean that they are healthier than in decades past. Though, according to one report, the time period where the aging nation is in poor health is being compressed until just before the end of life. People that are living longer are overall adding healthy years to their lives.
What does that mean for you if you are a caregiver? For one, it means your loved one has the potential of being around to see not only their great grandchildren, but, their great-great grandchildren. That is good for them, and for the grandchildren. Families that are connected learn more about other generations and find out more history than those who aren't.
It also means that your parents could need help longer. When it's time for them to move out of their house, help them look at a new home or community that is transferable. What that means is, they start in a home that offers independent living, but within a community that also offers skilled care. Recognize also that it means you need to be more pro-active in their daily lives. It could start with small things, like taking them to the grocery store or other errands; or it could get to where they need more care on a permanent basis.
To help you have some peace of mind as your loved one ages, we recommend that they have a medical alert system providing everything from a panic button in case of an emergency, to daily check in and reminder calls.