Why Active Seniors Are Healthier And Happier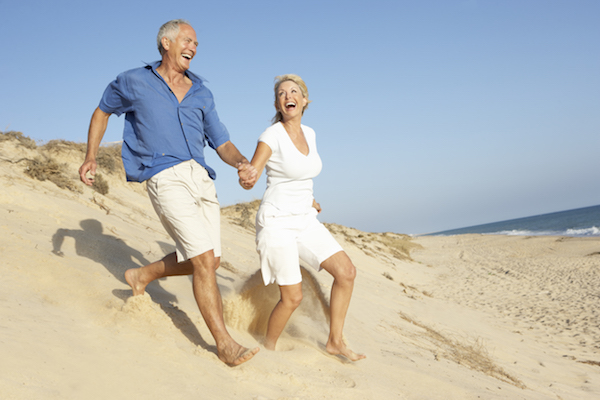 March is a joyous month for people who love being outdoors and staying active. Not only does it signal the change to daylight savings time, but it also hosts the spring equinox. In other words, the days immediately get one hour longer and will continue the trend for the next several months!
But what do extended days mean for seniors and people with disabilities? Should they be confined in their homes even as the rest of the world enjoys outdoor activities? Truthfully, more and more research suggests seniors and disabled populations benefit tremendously from outdoor activity. And with today's advanced technology, most can do so with the peace of mind in knowing they have a safety net in place.
Here are reasons why active seniors are healthier and happier and ways personal emergency response solutions (PERS) empower them to step outside.
Why Senior Activity Matters
The general benefits of exercise are well documented and include improved cardiovascular health, diabetes prevention and promoting healthy body weight. But seniors also benefit from activity. Even though elderly folks are more susceptible to a variety of ailments, they can still mitigate their risks.
Seniors also benefit in ways that are less of a concern for younger populations. One of the most important virtues of senior activity is a reduction in fall risk. Falls are a major cause of hospitalization and even death.
Not only does activity increase muscle strength, but it also improves overall balance. Balance is an attribute gained and lost over time. Most people can remember their first experience riding a bicycle and how it got easier with practice. Well, balanced walking and movement works exactly the same for aging seniors!
Safe Activities for Mobile Seniors
So, what activities are safe for most mobile seniors? While everyone will have different ability levels, the following suggestions are generally appropriate for older adults who can still walk safely without supervision:
Neighborhood Strolls – Many seniors have worked hard their whole lives to buy their dream homes in nice neighborhoods. Why shouldn't they enjoy them in their older years? A nice walk around the neighborhood can provide the right amount of exercise and have a positive effect on mood!
Supervised Swimming – Some seniors have their own pools, while others enjoy gym memberships with aquatic programs. Either way, swimming is one of the best activities for moderately healthy seniors. It provides great exercise and is also low-impact for people with sensitive joints!
Museums & Cultural Activities – People often forget that exercise can come in many forms. Most seniors can get a healthy workout simply from walking around a museum or art gallery. It's also important to remember many of the health benefits aren't just physical but also psychological. Cultural activities can be very mentally stimulating and may positively affect mood!
Social Engagement – Once again, "formal" exercise is great. But all activity can be beneficial. Even meeting friends at the nearby diner can include a walk and get someone out of the house. Even a senior who drives to an event is getting more activity than if she sat and watched television all day!
Activities for Wheelchair-Bound Seniors & People with Disabilities
Some seniors and people with disabilities are more limited than others and struggle with mobility challenges. However, there may still be appropriate activities that are beneficial to both physical and mental well being.
Simply put, research shows all people benefit from going outside and getting daily sunshine and fresh air. While someone in a wheelchair may not be able to stand and walk, he can still visit a nearby park or grab some lunch at the café with friends. Also, more ambitious activities like supervised swimming may even be possible!
Once again, it's important to recognize everyone faces unique health conditions and limitations. But it's also good to keep an open mind. In general, social engagement and outdoor activities can prove beneficial for most populations.
How Personal Emergency Response Solutions (PERS) Promote Healthy Activity
Once seniors and people with disabilities accept the benefits of activity, exercise and social engagement, it's important to provide them with a "safety net." Not only must they be cared for in the event of a medical emergency or fall, but the extra security will empower them to stay more active.
Personal emergency response solutions (PERS) provide effective and affordable safety for seniors and the mobility challenged. PERS is often thought of in the context of in-home "alerts," but the latest technology is far more robust. In fact, the best solutions are specifically designed to assist people on the go!
Here are the most important considerations when selecting a PERS system:
Reliability – Users must know their PERS system will work, if needed, every single time!
Mobility – A PERS system without "on-the-go" functionality doesn't encourage outdoor activity!
Availability –S.-based customer service representatives should be available 24/7 for questions and urgent needs!
Options – As stated, all people have unique health conditions and needs. PERS solutions should not be "one size fits all"!
Value – Ultimately, people are less likely to use a PERS system long-term unless it provides ongoing value!
Final Thoughts
Seniors and people with disabilities often feel incredibly vulnerable. They may wish to engage in more outdoor activities but fear falls and medical emergencies. With that said, it's still important for them to leave their homes for improved physical and mental health.
Daylight savings is here, so now's a good time to encourage activity among vulnerable populations through PERS technology. It may be just the solution to provide peace of mind and confidence. There's no reason in the world most seniors and people with disabilities can't enjoy the long days just like everyone else.
If you, a loved one or patient could benefit from the security that comes with PERS technology, be sure to check out America's leading provider today!