If you're on a college campus, it's not enough to load your backpack up with books and trudge through the snow or rain to get to the class on time, it's also important to have the right apps loaded on your smartphone. Let's face it – there is plenty in the news about campus safety and LifeFone now has an app that can help you feel safer and more secure.
The app, called Mobile Alert, allows you to get assistance if you are ever confronted with a threatening situation. When you tap the button on your device, it connects you to the LifeFone call center, where professional call center operators are standing by 24/7, ready to assist you. Using your cell phone coordinates, the operators can quickly identify your location, often more accurately than 911. Additionally, with the information you supply when you set up your app, the operators can follow a protocol you have designed for yourself. If, for some reason, you are unable or unwilling to speak assistance will be sent according to your plan.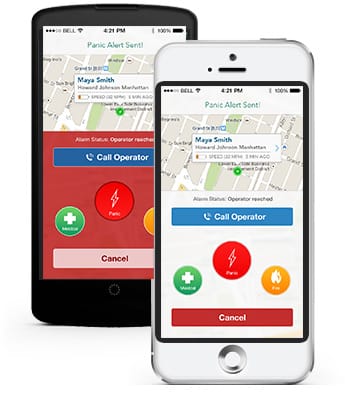 Who would use this device and in what situation? Here are a few:
In a panic situation. You may be walking across campus after a class and feel you're being followed. Perhaps you run early in the morning or late at night when there are few people out. Maybe you're in a mall parking lot and feel a little paranoid about your surroundings. All of these scenarios, and more, are perfect examples of when one might use the app.  Once you activate the device, the LifeFone operators identify your location and dispatch assistance.  The beauty of this app is that it is often more accurate than 911.
If you have a concern while traveling by car or by foot, you can utilize the Mobile Alert App as a "virtual escort" through your Smartphone. In the event you're worried about being followed, you can push the button on your smartphone to get assistance.
Using the app for medical emergencies is another instance where users may seek assistance. You can activate the app to summon assistance in any medical emergency, whether it's an allergic reaction to a bee sting, a heart attack, a diabetic in need of assistance or any other condition in which you may need medical assistance. Again, once the app has been activated, you will be provided assistance, even if you can't communicate with the operators.
In addition to using the app, which costs less than $8 a month, here are some other general safety tips:
Use the buddy system. If you're walking or driving in an unfamiliar setting, go in pairs or groups.
Always keep your phone with you, unlocked and ready to use.
Be aware of your surroundings. If there is an opportunity to walk in a well-lit, highly trafficked area, choose that option.
If you feel afraid, don't be afraid to yell for help! Don't hesitate or be afraid to draw attention to yourself – it's better to be safe than sorry.
Pay attention to your surroundings by not being so involved in texting or listening to music that you are unaware of potential dangers.