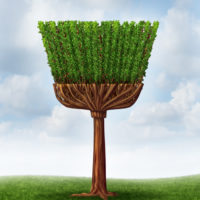 Once the snow has melted and the sun warms the air and the earth around you, your thoughts turn to summer. Before summer hits, many people get the urge to spring clean.
Giving your home a thorough spring-cleaning leaves it, and you, feeling refreshed, revitalized and ready for summer. A spring cleaning can involve taking down the heavier winter curtains, cleaning the windows then hanging up the lighter, breezier summer window hangings. It also means you take off the winter quilts and replace them with summer weight blankets.
Take a look around your house and decide which room to tackle first.  This is a great list for both caregivers and their homes as well as for their parents or other relative to help get their home summer-ready.
Clean the Cupboards:Toss expired cans, packaged items, and spices. Donate items you'll not use, and that have not expired.
Spic and span the kitchen:After taking care of the cupboards, clean the kitchen from top to bottom, and don't miss any appliances. Mop the floors, and wipe down the baseboards.
Clean out dressers and closets:Pack away the winter wear, and move the spring and summer items up front. Exchange the winter boots for spring and summer shoes. This is a great time to gather clothing together that no longer fits, or you don't wear anymore and donate to a local charity organization.
Tackle the bathroom:Scrub the shower, scrub the floors, and clean out the medicine cabinet. Check for expired prescriptions and over the counter medications. Do not toss or flush them, as many pharmacies will dispose of them properly.
Shake out area rugs:Shampoo or steam clean carpets. Polish hardwood floors and scrub the linoleum. This is also an ideal time to clean all of the walls in all of the rooms to clear away any dust or grime that has built up during the winter months.
Once you're done, the home will look, and smell, fresh and you can relax and enjoy the upcoming summer months.
Now that the inside is done, it's time to move the spring cleaning outside. Chances are, winter has ravaged your yard and you may need to spend time picking up branches and other dirt and debris that has gathered, not to mention the leftovers from your pets.
A thorough spring cleaning of your yard will assure that your grass will grow green and strong, that your plants will flourish and that when it's great weather you can pull up a chair, sit and relax and enjoy the beauty of your yard. Taking time to spring clean your yard when the plants are just waking up from their winter hibernation may help you avoid any issues with your foliage in the summer.
If you aren't sure what should be done when and if you don't trust your green thumb, here is a brief checklist of what should be addressed when spring cleaning the yard.
In early April it's the best time to grab a rake and begin a thorough yard cleaning. The yard may still be damp, so you may not want to run a lawn mower around so stick to handheld yard appliances.
Remove any coverings you put on your outdoor plants once the threat of overnight freezing has passed. If you staked up any trees so they would survive the winter, it's time to remove them.
Resist the urge to prune trees and shrubs in the early spring months. Wait until they have budded out. Also, if you don't see buds you may be removing a viable limb. Summer and fall are the best times for pruning.
If you have perennial plants, cut them so they can grow back. The same is true for ornamental grasses, cut them back so they flourish once summer is in full swing.
Once the ground is able to tolerate the weight of your lawn mower you may want to aerate it. This will help the yard absorb water and nutrients. It also stimulates grass growth and speeds the decomposition of any grass clippings.
Talk with a local gardening expert and ask the best time for planting your fruit and/or vegetable garden. You want to make sure they have a long enough growing season, but you don't want the seeds to be planted in ground that is too cold to support them.
Sprucing up your yard may mean planting new grass in areas that were damaged by the winter. Seeing plants start to poke their "heads" up through the ground is a sure sign that spring is on the way and you want to do what you can to help with that growth.
Now that you have your checklist, a spring cleaning may be the perfect time to get the entire family together as a mini family reunion and celebration of the end of winter!