Tips For Caregivers And Social Media For Seniors
As a society, we have quickly become driven social media. As a caregiver, being aware of the pitfalls and the benefits of social media for seniors will help protect the privacy of your loved ones. At LifeFone, the physical safety of your loved one is our number one priority, but we also believe that their online safety is important.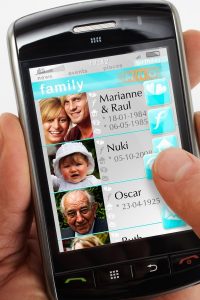 More and more seniors are jumping on Facebook and other social media sites daily. As a caregiver, you can help them to set up their accounts with privacy controls that help keep them less exposed to the pitfalls of the online world. You can teach them how to use the chat feature, and how to share images with their family and friends privately.
Seniors and their families often live far apart. This can lead to anxiety on both sides, particularly when the elder family members are living on their own. Social media gives seniors and their family a convenient way to check in daily, or on whatever frequency is desired, creating peace of mind on both ends of the communication.
With some face to face applications, there are other ways to interact with your loved ones besides on the phone. Facetime and Skype are the two major ones available.
There are many board games that can now be played via social media that will keep them engaged with others and can ward off the feeling of loneliness and separation. Some examples are Scrabble, Mahjongg and Poker. Games, no matter how they are played, keep your loved ones mind alert and sharp.
The importance of socializing as part of a community cannot be overstated, particularly in the lives of seniors who may be living alone, or are physically unable to get out. Connecting with friends on social media provides a way for your loved one to be a part of something without having to leave their home.
There are no hard rules with social media. Being aware of your loved ones' needs will help you make decisions as to their online presence and how much or when to share information.