A new generation of interactive companions may help combat isolation. The wellness benefits of having a pet are well-documented, but older adults are often forced to give up pets they can no longer care for or that are unwelcome at extended-care facilities.  LifeFone explores the concept of robotic pets for older adults.
In 2015, an independent film called Robot & Frank came out. It centered around an older man in the not-so-distant future who was facing increasing cognitive impairment and possible dementia.  His adult son buys him a robot to care for him at home. Of co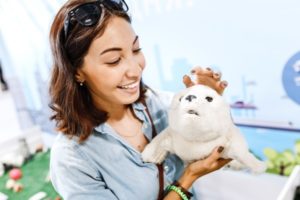 urse, at first, Frank wasn't very happy with the idea of having a robot, but winds up developing a friendship with it.  Not unlike what happens in Castaway when Tom Hanks bonds with Wilson, the volleyball.
Interestingly, the not-so-distant future is here when it comes to pets.  A major toy manufacturer has introduced two 'companion pets'. A cat and a dog. Both are robotic, furry interactive creatures. The robotic cat is equipped with a soft fur that gently vibrates when it purrs, while the pup barks and cocks its head in your direction when you speak. They are designed to bring happiness and comfort to older adults who may be feeling lonely or isolated. There's no need to feed, walk or clean up after the robot and it doesn't come with the risk of biting, nor does it display any unpredictable behavior.
In a skilled-nursing center in Orlando, Florida, Daisy curls up with her 'mom' as they nap.  Daisy is a cute, little butterscotch-colored pup that loves to be petted, and lets out a chirping bark or wags her tail when stroked. But, Daisy isn't real. She's a battery-powered, sensor-equipped, head-swiveling, heart-vibrating robot.
Animal-assisted therapy has been around in some form or another since the 1700's. The age of robotic pets is here, and may be a glimpse into the future of 'man's best friend'.
According to Jean-Loup Rault, professor at the University of Melbourne in Australia, "It might sound surreal for us to have robotic pets, but it could be totally normal for the next generation".
Along with LifeFone's Medical Alert devices, robotic pets could also help keep the older adults in your life more comfortable in their own home.